Patent Innovative Ideas that Lead to Business Success
Tntra's IP practice enables startups and enterprises to achieve Intellectual Property ownership of software products and solutions that accelerate digital transformation and enhance enterprise value.
Why file software patents
Products that "solve for friction" bring unique value propositions to the table. Turning innovative ideas into marketable products, building intellectual property, and patenting the solution gives a dynamic competitive edge.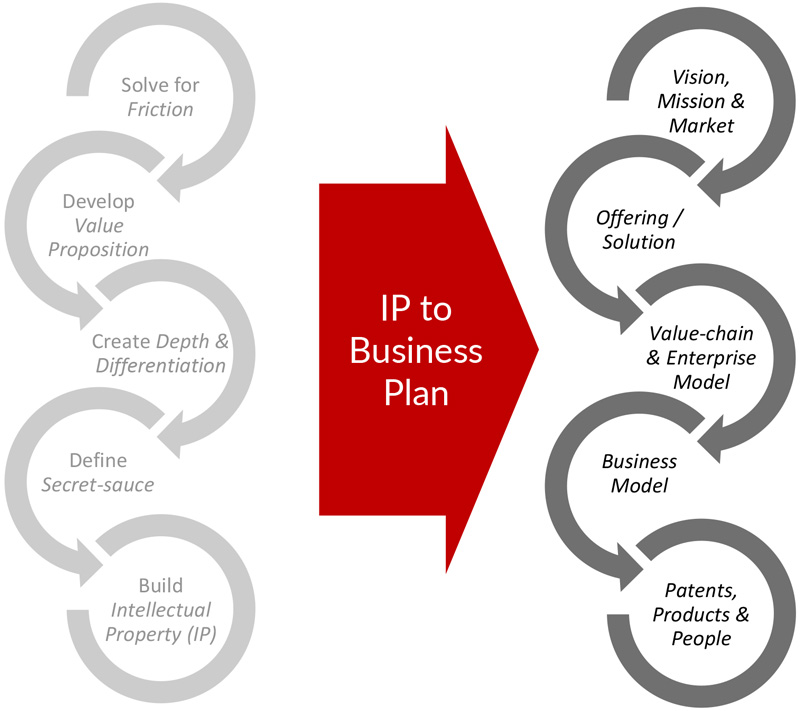 Define your "secret-sauce + depth + IP", leading to business plan Build a unique value proposition that helps to determine what adds value to the customer's life. Create an IP to define the product's uniqueness.
Protect your intellectual property Software patents enable enterprises to protect their innovation by securing IP rights. Companies can protect their differentiating factor.
Build a defensive strategy that includes protecting your customers and partners Filing a patent secures all stakeholders involved in the engineering process. Protecting customers' and partners' data and rights from infringement.
Potentially, build an offensive strategy Patents provide leverage. Companies can build an offensive strategy that minimizes infringement and provides the right to recover damages.
Enhance your enterprise value Maximize enterprise value by acquiring ownership of unique software products. Increase industry credibility by building a patent portfolio.
Our Services
Tntra's IP Practice will assist its customers in applying the "Why and How of Patents" to their specific situation, to help align its IP strategy with the overall business and technology objectives, and, developing an approach and engineering note that may lead to patent application/s.
IP-led Product Engineering
Tntra leverages unique FinTech, Supply Chain, New Economy, IoT, and HealthTech methodologies to create innovative solutions. We provide the resources, skills, and knowledge essential for building IP-led products.
Software Patent Assistance
Tntra conducts technical document review, source code review, and research for assessing the validity of the idea. We connect you with the right people to get the software patent and help create a unique software product.
Benefit from our IP-led product engineering skills and expert assistance for software patenting to protect your innovation. Contact us Now!
3 P's of Intellectual Property
Intellectual Property is about people and talent. The three P's of IP are complementary with each other. It is important to focus on building a patent portfolio, typically looking at a range of targets and trying to cover products with multiple features or build something bigger.
Patents
Once people engineer unique products, creating an IP is essential. While IP-led development ensures bridging the gap between ideas and reality, patents provide complete access to the utilization of that idea.
Tntra's IP Practice will help companies define their patent position potentially leading to a patent portfolio and further to a category claim-cloud.
People
IP-led technology products require people with a product-centric mindset that enjoy rapid prototyping. These people are the right fit for enterprises that need to build product differentiation.
Tntra will help companies build PODs, which go beyond just a captive team, aligning the POD's culture and capabilities with the company's core engineering team.
Product
It's the easiest aspect of the process. The unique idea turns into reality. Innovation is molded into a tangible and patent-worthy product. But how does that happen?
Tntra's Engineering team will help companies design and develop IP-led products with the right resources and technical expertise.
How to approach patents
Tntra caters to the IP ownership process as it understands the knowledge, skills, resources, and expertise behind the product.
Define "value proposition vectors" Value proposition addresses the system, process, or apparatus that makes a certain outcome possibly unique.
Build "category breadth and depth" Category depth and breadth identifies the industries, applications, and experiences that will benefit from the invention.
Draft engineering note Engineering note includes the design of the system. It identifies the engineering aspect that needs to be patented.
Engage patent strategist/lawyer Engaging a patent strategist/lawyer helps to differentiate between copyrighting the code and patenting software.
File provisional application Provisional application must evidence the possession of the invention and includes follow-up with final applications, PCTs, and much more.
Learn about our IP management solutions and how they can benefit your business.
Let's Connect Now!

Get In Touch
Let's Discuss Project Ideas
×

Get In Touch
Let's Discuss Project Ideas
×