How can Technology Consulting use IoT for Revolutionizing Customer Experience?
The use of IoT technology in transforming customer experience (CX) has become crucial for businesses. With consumers looking beyond the core products and services, IoT offers solutions such as predictive maintenance, personalization, and real-time monitoring.
Headquartered in Atlanta, Georgia, Delta Airlines is a major American airline with a large domestic and international network that serves over 325 destinations across six continents, making it one of the world's largest airlines. To enhance customer experience, Delta Airlines utilizes IoT technology that provides real-time baggage tracking, enabling customers to receive timely alerts and updates regarding their luggage.
In Q4 of 2016, Delta Airlines introduced an IoT (Internet of Things)-based RFID tracking solution to address customer concerns regarding the safety of their luggage. This innovative solution is a big leap in customer experience (CX).
By utilizing IoT technology, Delta Airlines has significantly enhanced its ability to provide customers with a more seamless and stress-free travel experience. By leveraging IoT technology consulting RFID solutions, customers can track their luggage in real time, from when it is loaded onto the aircraft to its arrival at the destination airport. This is achieved through push notifications delivered via the Fly Delta mobile app, which gives customers a greater sense of control over their journey and peace of mind regarding the location and status of their luggage.
Source: Delta
Read more: How Can Technology Consulting Help in Consumer Behavior Management?
Revolutionizing Customer Experience with IoT: A Look at the Trends
As per Salesforce, 80% of customers now consider an organization's experience to be as important as its products and services. As a result, consumers are looking beyond the benefits of a company's core products and services. 66% of customers expect brands to understand their expectations in advance.
Managing consumer expectation in the present market can be a daunting task. However, revolutionary technologies such as IoT can help you improve your efficiency.
As per recent research, close to 85% of businesses say their efficiency improved after adopting the IoT strategy.
IoT in Retail is perhaps the biggest happy story of the technology's benefits. Gartner says the number of connected devices will surpass more than 20 billion by 2020. As a result, the retail industry has already caught its whip and is banking on IoT for retail customer experience.
The global retail giants heavily rely on IoT for their business operations. The market size of the IoT in the retail industry was $28.14 billion in 2021, and it is predicted to grow at a CAGR of 20.3% from 2022 to 2031, reaching an estimated value of $177.90 billion by 2031.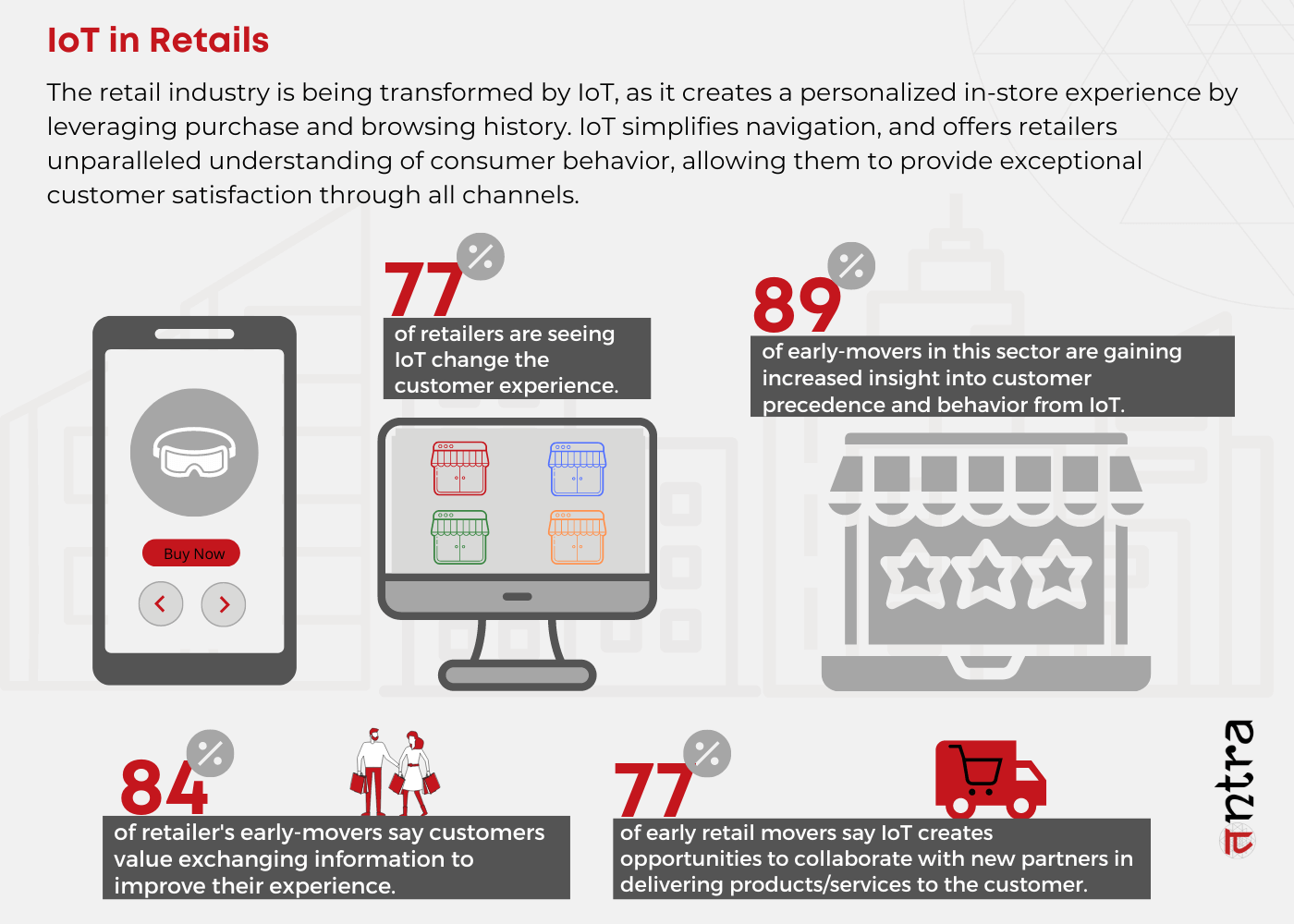 Transforming Customer Experience (CX) with IoT: Strategies for Technology Consulting Firms
Transforming customer experience with IoT is critical for technology consulting companies to stay ahead in the competitive landscape. A Software product engineering company can provide technology consulting using IoT solutions. The consultants can offer innovative strategies that enhance customer experience, improve operational efficiency and drive revenue growth.
Predictive Maintenance:

By analyzing real-time data from IoT sensors, companies can predict when equipment or services may fail and take corrective action before it happens.
The use of IoT for customer experience helps prevent customer inconvenience or dissatisfaction caused by downtime, delays, or service interruptions, resulting in higher levels of satisfaction and loyalty.

Personalization:

IoT provides companies with many customer insights, including preferences, purchase history, and usage patterns. By analyzing this data, companies can gain insights into what customers want and use their innovation to personalize products and services to meet their needs.
This can lead to a more engaging and relevant customer experience and increased customer loyalty and repeat business.

Real-time Monitoring:

IoT sensors are a New Economy innovation that allows companies to track customer behavior and react immediately to changes or emerging trends.
This helps companies make data-driven decisions to improve their products or services to align with customer preferences, ultimately enhancing the overall customer experience.
When a product or a service is more aligned with the consumer changing likes and dislikes, it is more likely for a business to have a competitive advantage.
Discover how Tntra streamlined freight forwarding with data-driven solutions. Check out the innovative Case study for Freight Forwarding.
Conclusion
Technology consulting firms can transform customer experience with IoT by adopting user-centric design principles and optimizing their processes. By leveraging IoT sensors for predictive maintenance, personalization, and real-time monitoring, companies can improve their ability to anticipate and meet the needs of their customers, ultimately leading to increased customer satisfaction and loyalty.
As IoT continues to evolve, technology consultants prioritizing user-centricity and process optimization will be best positioned to drive meaningful improvements in customer experience for their clients.
Tntra digital transformation approach can help businesses deliver promising experiences to their consumers.
Contact Tntra innovation team today to drive customer engagement using IoT technologies.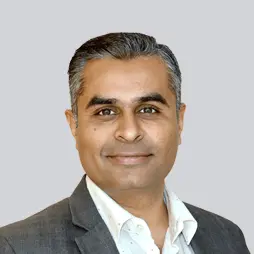 Shardul Bhatt
Shardul has been in the tech industry for over 18 years. He has worked with some of the global leaders like Mastercard, CIGNEX, and others. Today, Shardul stands as the CEO of
Tntra
- a global innovation ecosystem that provides product engineering services. He is enthusiastic about the latest innovations in the software industry and writes extensively to guide businesses and engineers for making better development decisions.
Choose Your Language
Categories