The Tntra Diamond
Manage the interplay Between Business Process Re-engineering and Digital Transformation of your enterprise.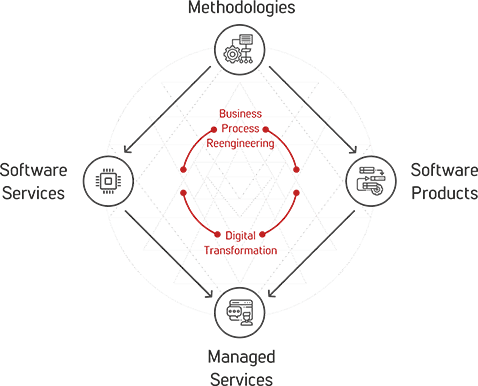 Tntra's Diamond is a comprehensive approach to helping enterprises manage the constant interplay between Business Process Reengineering and Digital Transformation. Tntra's domain specific methodologies lead to software services for mature systems and software product engineering for new requirements, further transitioning to a managed service model to ensure stability and scale.
Increasingly enterprises find themselves in the unenviable position of being behind the curve on digital transformation, with the additional complexity of managing processes as well as IT estates. Tntra's Diamond enables the enterprise to stay ahead of the transformation curve, while at the same time ensuring optimal business processes to meet the needs of the new economy.
Tntra's domain specific methodologies ensure the enterprises' business processes are optimized to meet the new economy market needs. The outcome of this exercise enables Tntra's software services team to provide the appropriate support for mature systems, and, in parallel, its software product engineering team to develop the new products and solutions to ensure relevance. Finally, managed services ensure ongoing stability and robustness of the entire IT estate.
Tntra Diamond: A Roadmap to Digital Transformation
Tntra's unique methodologies serve as a roadmap for the software engineering process. It improves the organization and structure of the business re-engineering processes to eliminate inefficiencies.
Our patented methodologies guide the re-engineering projects which further result in either software engineering for new products or software service for legacy systems, and eventually managed service to manage the interaction between the two.
Methodology
At Tntra, we have developed exclusive methodologies enabling us to create powerful business products. Our approach not only helps build, deploy, and run products but also promotes organization and structure to eliminate inefficiencies during the development process.
Know More
Software Services
Tntra software services are for businesses with a platform with certain specifications and history. Our objective with software service is to augment and build upon the existing platform to meet the market's changing needs.
IP-Led Product Engineering Service
Tntra is a leader in providing IP-led software engineering services for brand-new software innovations. We offer IP-led product engineering services focusing on innovation, quality, and efficiency to drive business growth and customer satisfaction while protecting the software product from illegal distribution and usage.
Know More
Managed Service
Our Managed Service offers expertise for monitoring and maintaining the systems and applications to ensure they run optimally and meet the agreed-upon service levels. It plays a critical role in managing the interplay between Software service and Product engineering.
The interplay between the three leads to the Digital Transformation of an enterprise.

Get In Touch
Let's Discuss Project Ideas
×