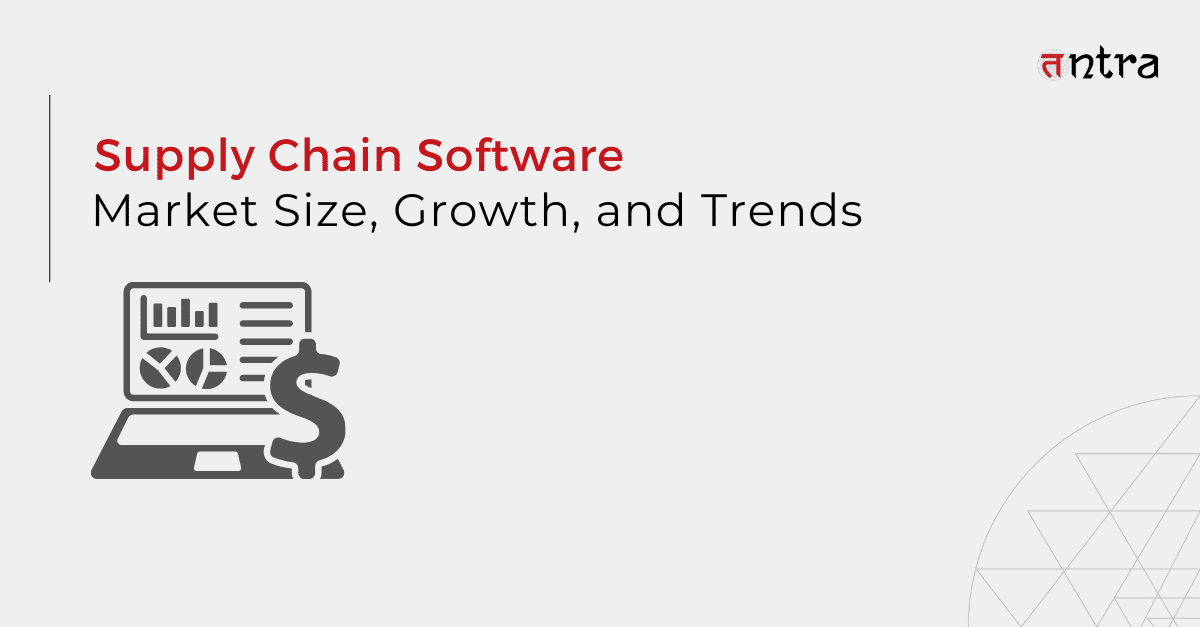 Supply Chain Software Market Size, Growth, and Trends
Cin7 is an integrated cloud-based supply chain management software. It streamlines inventory management across multiple channels. It integrates products, sales channels, stock areas, orders, warehouses, workflows, reports, and other critical logistics areas in one centralized, automated location. Sellers and retailers use the software to reach customers through a variety of channels.
Transfix TMS is a supply chain management software by Transfix. The software helps shippers save cost, reduce time, and optimize operations. It streamlines tender management, offers capacity evaluation, and provides data-driven insights. It also provides automated tendering and performance analytics for each shipment.
(Source: Indeed)
Supply Chain Software Market Size
Revenue in the Supply Chain Management Software market will reach US$17.58bn in 2022. The market is expanding as companies move towards supply chain digitization. Today, more and more enterprises opt for digital solutions to manage their inventories.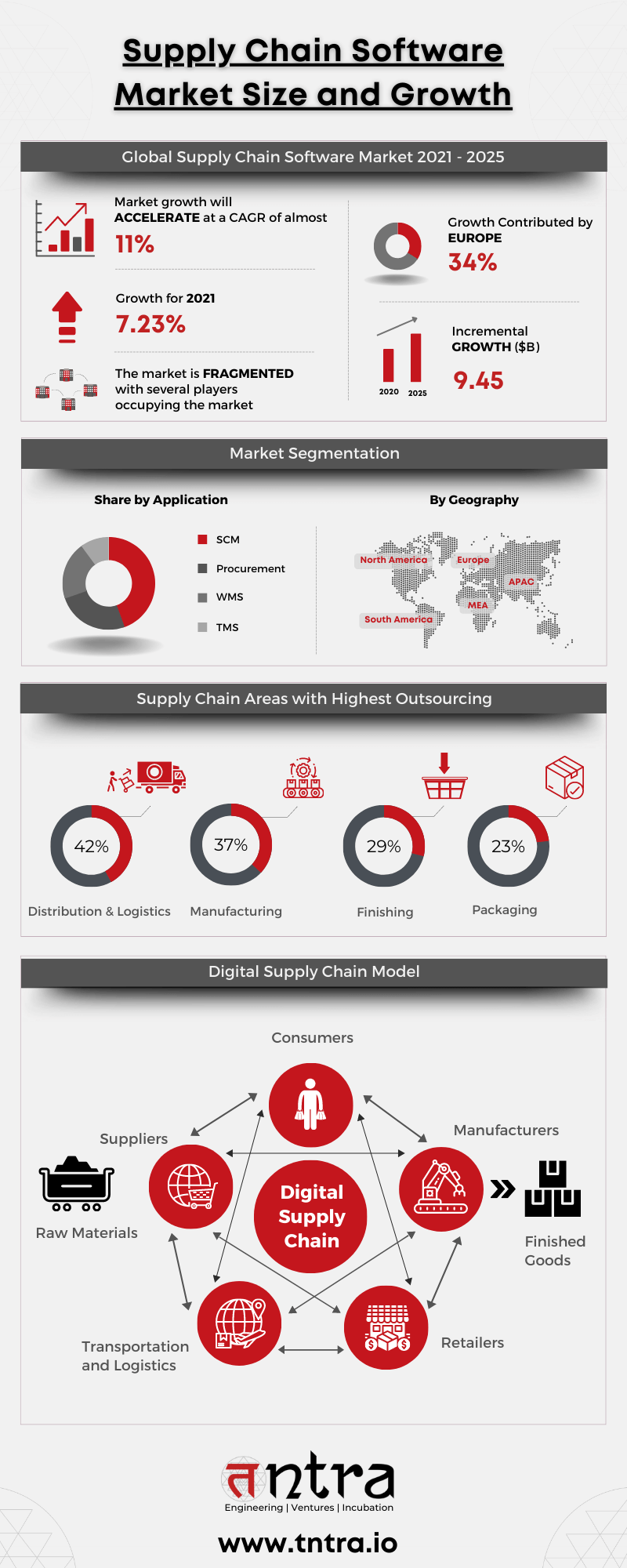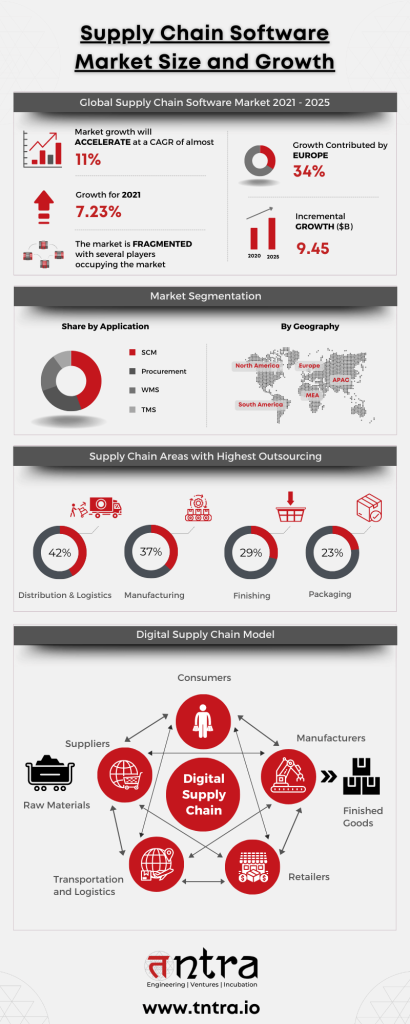 Europe will account for 34% of the growth in the supply chain solutions market size. The rising adoption of automation and digital technologies in logistics and supply chains is the reason behind such growth.
SAP, Oracle, Infor, IBM, and Descartes are the 5 key players in the supply chain management software market. They provide enterprise SCM software solutions. These companies address inventory management problems through comprehensive supply chain solutions.
Read more: Moving from Legacy Systems to Enterprise Modernization (while minimizing loss)
Supply Chain Software Market Trends and Evolution
The primary reason to use supply chain management software is to improve inventory management. So whether it's an ecommerce business or an electronics company, supply chain management software development has become a crucial part of their operations.
Today, companies need product engineering services for supply chain software. They don't care about the cost – they focus on the product's usefulness.
eCommerce is driving the high growth of supply chain management software. The enterprises are developing comprehensive strategies to deliver end-to-end business models by adopting the cloud-based SCM system. Therefore, software product engineering services for SCM software in e-commerce are in high demand.

Apart from that, some trends involve –
SCM software for Healthcare
The pharmaceuticals and healthcare industry needs SCM software to manage medications and equipment. Pharma companies need proper software to track the conditions of medications that are transported through cold storage units. Apart from that, fast delivery of medical supplies ensures access to medication and equipment when they are needed the most.

Big Data Analytics
To enhance the overall business performance, big data is using SCM data to ensure accurate and efficient inventory management. In addition, digital product engineering in the supply chain for automobile, NGO, manufacturing, and healthcare industries using big data is gaining importance. Data provides insights into the overall supply chain process and makes decisions that improve the entire logistics and delivery process.

Digital Supply Chain Networks
Also known as DSN, the digital supply network became popular after the pandemic. It ensures better collaboration among all supply chain partners. The DSN provides clear visibility across the complete supply chain network. It also offers end-to-end visibility, agility, and optimization of the supply chain process. DSNs break down the silos and create a connected organization across all channels.
Conclusion
Supply chain software market trends are worth watching. With AI, ML, Blockchain, and IoT technologies coming into action, SCM will improve. When you need a partner to implement SCM systems and take advantage of digital supply chains, Tntra can help. We are a software product engineering company with supply chain domain experts that engineer SCM software to help optimize the entire inventory and workflow.
Consult us today!
---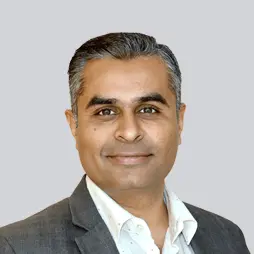 Shardul Bhatt
Shardul has been in the tech industry for over 18 years. He has worked with some of the global leaders like Mastercard, CIGNEX, and others. Today, Shardul stands as the CEO of
Tntra
- a global innovation ecosystem that provides product engineering services. He is enthusiastic about the latest innovations in the software industry and writes extensively to guide businesses and engineers for making better development decisions.
Choose Your Language
Categories