Unlocking Resilient Supply Chains Through Effective Digital Supply Chain Software Solutions
Tntra helps you optimize your supply chain and logistics with software solutions to streamline processes, save time, and optimize costs for your business in diverse manufacturing and logistics areas.
Why Supply Chain Management Software Solutions?
Supply chain software development services are crucial in optimizing and streamlining complex business operations. By leveraging advanced technologies such as AI, Machine learning, and Blockchain, SCM solutions enable efficient inventory management, demand forecasting, logistics planning, and real-time tracking, ensuring all that is necessary for a smooth last-mile delivery, cost savings, and satisfied customers.
In today's interconnected world, choosing software solutions becomes paramount in bringing order to global supply chains. By seamlessly integrating operations, streamlining processes, and optimizing resource utilization, these software solutions empower businesses to achieve efficient inventory management, accurate demand forecasting, real-time visibility, and smooth coordination.
The result? A harmonized and resilient supply chain, where the line between disorder and order fades away.
An integrated global supply chain enables organizations to make educated decisions on product lifecycles, market trends, and economic variations. Utilizing Tntra's open-source supply chain management software, which are backed by AI, ML, and data analytics solutions, would help you make data-driven choices for improved analytics.
By harnessing the advancements in Blockchain technology, businesses can achieve transparency, security, and trust in supply chain operations, resulting in enhanced profit margins. Tntra's expertise in Blockchain empowers businesses to build transparent supply chains, fostering improved transparency, security, and trust for increased profitability.
An effective supply chain management strategy increases operational flexibility, giving businesses more time to watch out for rivals and detect changes in client demand. Our supply chain software development services promote the necessary agility, allowing firms to respond quickly to changing market demands.
The SCM system undergoes a transformative shift through automation by replacing manual tasks with technology-driven processes, boosting productivity, reducing errors, and optimizing logistics. Tntra specializes in building solutions that foster collaboration and automation, utilizing data visualization tools to enhance supply chain efficiency, both digitally and physically.
Are looking to enhance your supply chain with innovative digital solutions?
Our Supply Chain Software Development Services
Tntra's Supply Chain Management systems integrate data, knowledge, and technology to enhance the value of your goods and services. Our outcome-focused technical efforts produce value for our customers, users, and stakeholders.
Procurement Management
Our procurement management system simplifies communicating with suppliers and vendors, streamlining business processes by automating payments. In addition, our supply chain management software solutions help our clients reduce their costs and increase spending control capabilities.
Inventory Management
We provide thorough EDI software development services that guarantee adherence to legal requirements, including HIPAA, GDPR, and PCI. Our solutions offer safe data exchange for seamless communication between enterprises within SCM systems. Tntra provides effective and secure transfer of sensitive information, promoting efficient supply chain operations.
Order Management
We have expertise in creating order management applications that optimize and streamline the process. Our solutions enable tracking orders and sales, saving time, money, and resources while ensuring increased operational effectiveness. In addition, we integrate and automate order processing with point-of-sale purchasing and shopping cart systems.
Shipping and Logistics
Our shipping and logistics software development services are geared toward building a complete logistics management system that enhances warehouse operations, inbound/outbound transportation, and third-party logistics. Tntra's supply chain management apps handle all your requirements, from estimating freight quotations to easy interaction with supply chain partners.
Smart Supply Chain Management
Tntra specializes in smart supply chain software development to enhance your SCM operations. Our expertise lies in utilizing Blockchain and IoT technologies and intelligent Machine learning algorithms to seamlessly integrate and optimize your supply chain processes. Our SCM solutions include smart delivery and logistics solutions and RFID solutions.
Supplier Relationship Management
Our SCM solutions enhance supplier relationship management through analytics-driven supplier pre-qualification, efficient creation of sourcing events using templates, and seamless collaboration with internal teams for supplier selection. We help you achieve reduced compliance risks, enhanced supplier engagement, and optimized sourcing strategy.
Tntra's Supply Chain Software Development Approach
At Tntra, we follow a comprehensive 6-step approach to deliver tailor-made and innovative Logistics Management Solutions. Our approach ensures optimized operations, increased efficiency, and the ability to drive business growth through our best supply chain management solutions.
Discovery
We start by learning about your supply chain's particular difficulties, objectives, and needs. We learn more about your current processes through in-depth discussions and analysis, which also helps us spot potential areas for development.
Planning
We develop a thorough project plan based on the information gathered. This entails specifying the project's goals, schedule, allocation of resources, and milestones. Tntra's scm shipping & logistics software solutions ensure the development and implementation process has a clear roadmap.
Design
For supply chain and inventory management solutions, our talented developers create intuitive and user-friendly interfaces. We prioritize implementing the best UI/UX design practices, considering your branding guidelines, and delivering a smooth user experience.
Development
Establishing a foundation with industry best practices and standards, our experienced developers start designing the product. We use cutting-edge New Economy solutions like AI, Blockchain, and IoT to construct dependable, scalable solutions that satisfy your particular needs.
Testing and Quality Assurance
Our Quality Assurance analysts perform thorough testing throughout the development process to find and correct any bugs or issues. The program is tested to ensure it complies with the highest performance, security, and dependability requirements.
Deployment and Support
When a custom Supply Chain Management system is prepared, we deploy it in your environment while offering the required assistance and training to ensure a seamless transition. For continuing upkeep, upgrades, and support, team Tntra is always available, assuring the success of your supply chain software solution.
WHY Tntra? - Benefits of Tntra's Supply Chain Software Development Services
Customized Solutions
Tntra provides supply chain management services tailored to your company's needs and specifications. Our solutions are tailored to improve the efficiency and performance of your supply chain processes. Our local presence in the USA, India, Japan, the Middle East, Japan, and Singapore helps us understand local supply chain challenges.
Better Order Management
Tntra's supply chain systems help avoid order delays or missed supplier discounts by automating document approvals and making it 3X faster. Our system enables routing to the relevant decision-maker based on factors like locations, departments, projects, and custom fields. It offers mobile on-the-go approvals, maintains compliant audit trails, and more.
Advanced Technologies
Tntra gives you access to technologies like AI, ML, Blockchain, and IoT, enabling the development of supply chain management software that takes advantage of Industry 4.0 and Web 3.0's breakthrough qualities. By utilizing these technologies, our solutions improve decision-making powers, expedite processes, and enable real-time tracking.
Supplier Control and Visibility
Tntra's SCM business systems promote long-term supplier relationships and improve supply chain process visibility and control. Our solutions reduce risks and guarantee comprehensive supplier management by streamlining the RFP procedure and facilitating speedy supplier onboarding. Our solutions enable wise decision-making through improved visibility, proactive inventory tracking, and informative KPIs.
Cost Reduction
Tntra's Supply Chain Management software development services lead to a 20% decrease in procurement expenses, a 50% decrease in supply chain costs, and a 10% gain in income. Businesses using our SCM systems can improve their profitability and revenue by streamlining processes and implementing cost-effective resource and inventory tracking solutions.
Budgeting and Reporting
Tntra's supply chain management software development services can help you with budget compliance and automated reporting for accounting teams, eliminating incorrect records and faulty audit trails. You can guarantee cost-effectiveness and wiser fund allocation with real-time budget tracking, configurable dashboards, and visual charts.
The Tntra Difference: Value for Money, Easy Integration, and Support
Tntra is focused on the means as to the end, bringing everything that committed individuals or teams need, from engineering to incubation to funding, all geared towards successfully delivering at a global stage.
To create feature-rich applications for custom supply chain management (SCM) software solutions, we use cutting-edge technologies like AI, machine learning, and IoT. Our solutions address regional issues by utilizing our local presence in a number of regions, including the US, EU, India & GCC, Singapore & Asia-Pacific, and Japan.
Progressive New Economy technologies for the creation of SCM software.
User-centered solutions that address regional issues.
Easy interface with existing ERP platforms and third-party systems.
Clear pricing policies for unbeatable value.
24/7 guidance and assistance for customer satisfaction.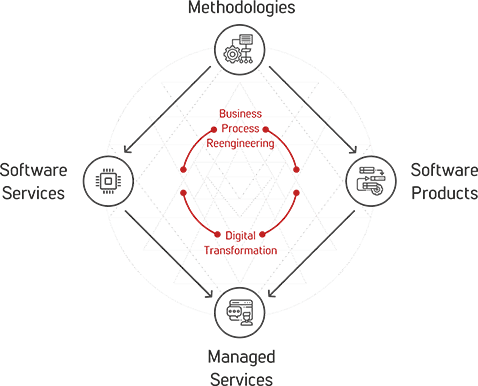 Tntra Diamond
Tntra's Diamond is a comprehensive approach to helping enterprises manage the constant interplay between Business Process Reengineering and Digital Transformation. Tntra's domain specific methodologies lead to software services for mature systems and software product engineering for new requirements, further transitioning to a managed service model to ensure stability and scale.
Tntra's Diamond enables the enterprise to stay ahead of the transformation curve, while at the same time ensuring optimal business processes to meet the needs of the new economy.
Tntra's Capabilities
Tntra has vast expertise developing product engineering solutions across industries, supported by deep domain experts, and front-end to back-end to full-stack engineers across technologies.
We are a product engineering company providing everything you need, from mentorship, to collaboration, to development, to partnerships, to successfully delivering on the global stage.
Robotic Process Automation
Transform Your Supply Chain with Tntra's Digital Transformation Services
Contact Us Now!

Get In Touch
Let's Discuss Project Ideas
×