Tntra is focused on the means to the end and provides the necessary resources for individuals or groups to succeed.
With over 20 years of experience in software development services and IT services, process reengineering, digital transformation, innovation, and entrepreneurship, Tntra has established a strong global presence.
Tntra - A Top Software Development Company in Singapore
Innovative Software Product Engineering for your Digital Transformation Journey.
Tntra supports its regional partners holistically as a global innovation ecosystem. Tntra has distinguished itself as a highly distinctive platform to assist innovators, entrepreneurs, and enterprises worldwide in delivering sustainable impact. This includes developing the go-to-market strategy, supporting the technology and customization, providing a distinctive venture capital offering, and supporting growing human capital needs.
We provide software product engineering for IP-led requirements, software services for mature and legacy systems, and digital transformation for small to large enterprises worldwide.
We help bring ideas to life, providing innovators and entrepreneurs with the necessary support and infrastructure to develop their strategies, solutions, and business plan.
We provide pre-seed and seed funding, primarily to companies that are part of the Tntra ecosystem – leveraging our engineering services and incubator.
Gurukula is our human capital, and capacity-building arm focused on developing value-based culture and knowledge-age technology capabilities.
Yntra productizes our patented methodologies for scoping, sourcing, and executing innovation, which is manifested in the form of a patent portfolio, technology, product/service, engineering team, or venture.
Tntra's Software Development Services
With attention to innovation and cutting-edge technology, Tntra's software development services in Singapore help businesses thrive in the fast-paced market.
Technology Consulting Services
Tntra's technology consulting helps businesses navigate the complex landscape of technology and make informed decisions through digital product engineering.
Web Application Development
Tntra provides web development and design services in Singapore. To help businesses, we build helpful, approachable, and aesthetically pleasing websites and web applications.
Managed Service
We aim to ensure stability and scale. Tntra offers proactive monitoring, upkeep, and support to help you keep your software infrastructure optimized for business growth and efficiency.
IP Led Product Engineering Services
Tntra's software product engineering service for IP-led requirements helps our clients build feature-rich products while securing their right to innovation.
Digital Transformation and Reengineering Services
Tntra's digital transformation and reengineering services assist in streamlining processes, adapting to market trends, leveraging tech for growth, and achieving sustainable success.
Mobile Application Development
As a top mobile app developer in Singapore, Tntra supports clients from prototyping to refining the finished product, including UI/UX design, frontend/backend, and more.
Partner with Tntra today for innovative software development services in Singapore and take your business to the next level Contact us Now!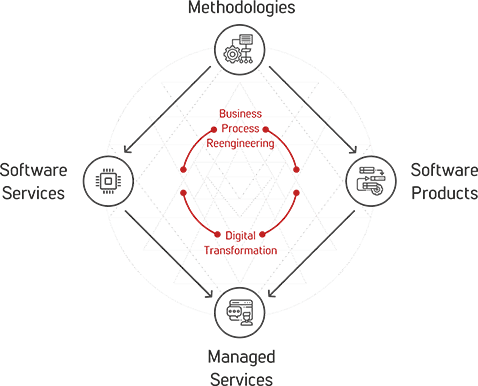 Tntra Diamond
Tntra's Diamond is a comprehensive approach to helping enterprises manage the constant interplay between Business Process Reengineering and Digital Transformation. Tntra's domain-specific methodologies lead to software services for mature systems and software product engineering for new requirements, further transitioning to a managed service model to ensure stability and scale.
Tntra's Diamond enables the enterprise to stay ahead of the transformation curve while at the same time ensuring optimal business processes to meet the needs of the new economy.
How can Tntra Help Singapore?
Singapore, a significant financial center in the Asia-Pacific region, has a long history of building a reputation as one of the most developed economies in the world. Singapore's two major economic contributors are the manufacturing and financial services sectors. Its economy is also growing as a result of other rising sectors like healthcare, clean energy, and medical technology.
Manufacturing Sector
Tntra, a Singaporean software company, offers custom software engineering solutions that digitize the entire manufacturing process, including design, production, shipping, staff management, invoicing, CRM, and demand forecasting.
FinTech Sector
Tntra's product development engineering uses the DFC methodology to offer full-cycle FinTech consulting to BFSI businesses, improving efficiency, customer engagement, and profitability.
Healthcare Sector
Tntra designs intelligent software solutions for healthcare organizations, automating procedures, improving workflow, and enhancing patient care through tools such as patient monitoring, appointment scheduling, telemedicine, and electronic medical records.
Distinctive Features of Tntra's Engineering
Expert Team
We are a software development company in Singapore with engineers who can grow alongside your needs. We can supplement this team with other experts in areas such as DevOps, cybersecurity, and more.
Affordability
India is a renowned outsourcing destination for software development services, and Tntra offers access to highly skilled engineers at cost-efficient hourly rates for end-to-end services.
Innovation
Tntra likes to stay ahead of the curve. Therefore, we integrate cutting-edge technologies such as blockchain, AI/ML & more to create software applications.
Rapid Go to Market
Tntra's Agile approach to software application development enables us to launch products by prioritizing features and making continuous releases and improvements.
Domains Tntra Serves
Tntra is a software development company in Singapore with domain experts who have extensive experience in FinTech, HealthTech, IoT, Supply Chain, and New Economy, providing the expertise needed to build reliable, effective, and sustainable solutions.
Logistics and Supply-Chain
Transform your ideas into reality with our expert software engineering services in Singapore.
Get In Touch!

Get In Touch
Let's Discuss Project Ideas
×