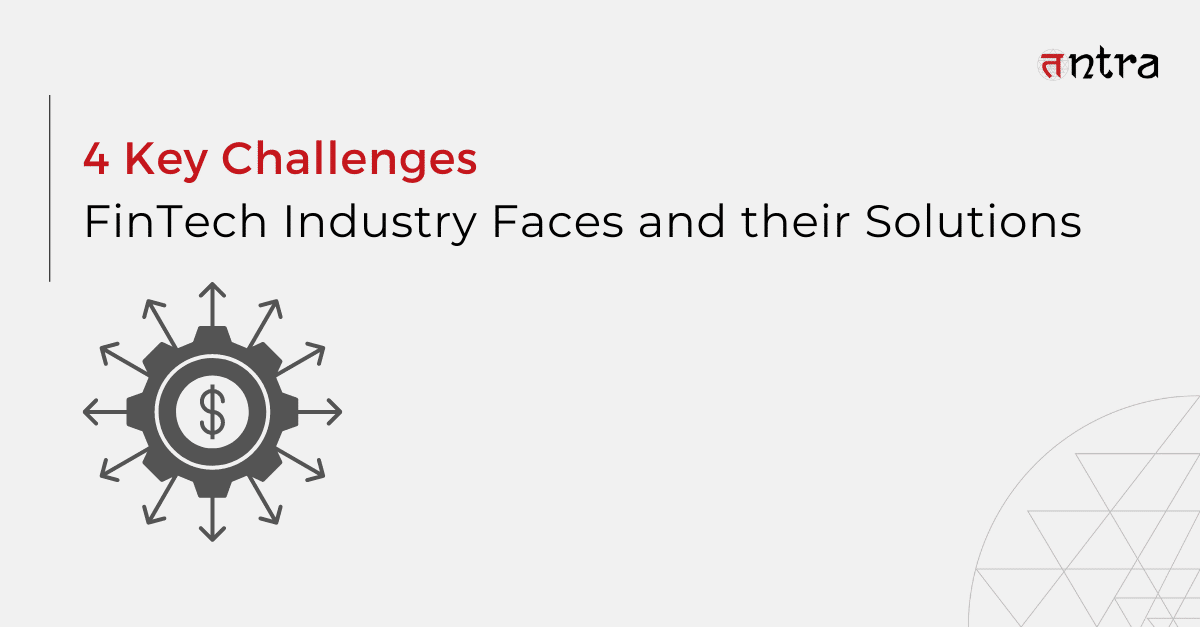 4 Key Challenges FinTech Industry faces and their Solutions
FinTech is expanding quickly, and investments are rising at a previously unheard-of rate. The FinTech industry faces obstacles such as a high failure rate, a lack of knowledge in mobile app development, and the risk of cyberattacks. Companies can hire professionals to assure legal compliance, collaborate with FinTech developers to take advantage of hardware integration and cooperate with product engineering suppliers to construct high-security FinTech solutions.
N26, a FinTech startup headquartered in Berlin, withdrew from the US market due to regulatory concerns and resource constraints. German officials were examining the company's anti-money laundering measures and operational toughness. The German financial authority BaFin limited N26's customer expansion, preventing the business from acquiring more than 50,000 new clients monthly until the problems were resolved.
N26's plans to become global were hampered by the choice to leave the US market. The CEO of the business earlier declared that the company wanted to transform banking into what Spotify had done for music. N26 acknowledged that its resources needed to be extended due to the startup operation's need for funding and managerial time.
N26 left the US market after deciding to leave the UK market. The company now focuses on enhancing its core business operations in Europe and growing its presence in Eastern Europe. Despite these difficulties, N26 continues participating in the European FinTech market, serving roughly 7 million clients in 24 European nations. First, however, it must address its operational and regulatory challenges to fulfill its global objectives.
N26 faced challenges from German regulators over its anti-money laundering controls and operational resilience. The company was also forced to withdraw from the US market due to stretched investments and management time.
These are only some of the challenges that FinTech companies may face globally. However, a professional software product engineering company can help anticipate and manage such risk.
Source: Financial Times
Growth of the FinTech Organizations and Challenges
Globally, FinTech adoption is expanding quickly. The FinTech industry will be worth $179 billion by 2023. By 2024, it is anticipated to reach $188 billion.
Investments in the FinTech sector also rose at a staggering pace. Investments increased by $19.9 billion from the second half of 2020 to a then-record-breaking $98 billion in the first half of 2021.
By the end of 2022, it was predicted that the overall transaction value of digital payments would be $8.49 trillion. On the other hand, FinTech bank assets grew by 105% from 2013 to 2022, while traditional bank assets grew only by 75%.
Several things make it difficult for FinTech companies to move further. As per DemandSage, one in nine new FinTech businesses fail. That is the same as 90% of new businesses. Furthermore, 10% of new businesses fail during the first year of operation. In the US, 80 percent of FinTech startups fail.
Major cyberattacks threaten 98 percent of the top 100 global fintech businesses. This is another pertinent risk faced by FinTech companies. Dave, a FinTech behemoth with headquarters in the US and a $1 billion valuation, suffered from a cyber attack. In 2020, 7.5 million of its records were purchased on the Dark Web.
Challenges Faced by FinTech Companies and their Solutions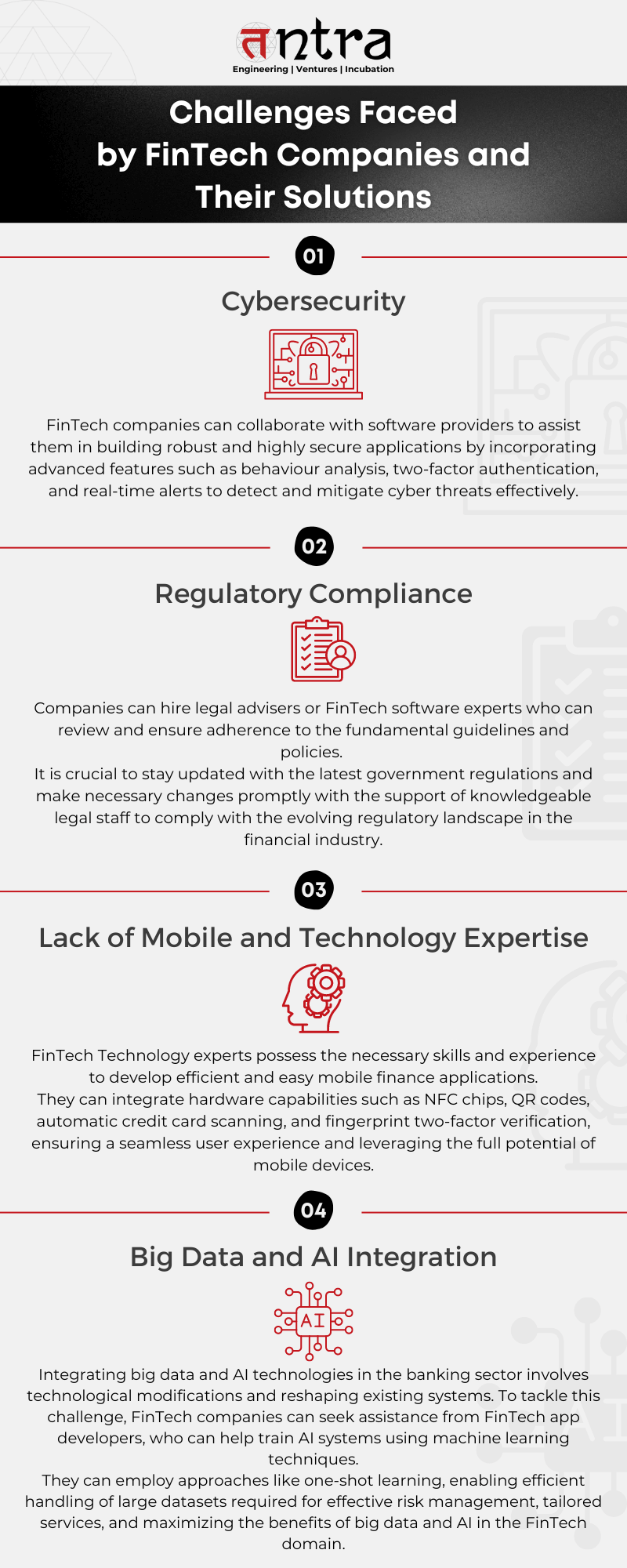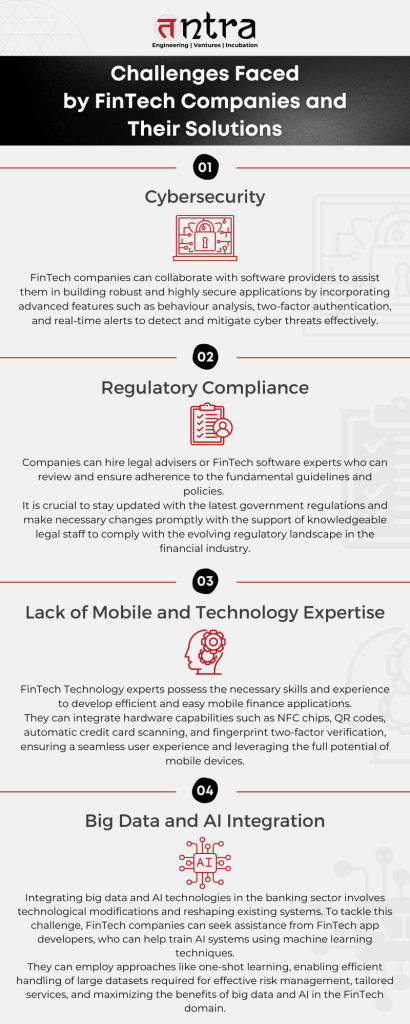 1. Cyber Security
Ensuring data security in FinTech applications is challenging compared to traditional financial solutions. Cybersecurity threats are harder to detect and can have a greater impact on users' money and personal data.
Solution:-
Software product engineering solutions providers like Tntra can help in building high-security applications. The app can have the following features related to behavior analysis, two-factor authentication, and real-time alerts.
2. Regulatory Compliance
Finance is the most regulated sector. Globally nations have different regulations to manage financial services. Hence the FinTech sector also falls under the purview of such regulations.
Solution:-
Ensure that the software complies with the law before using it or developing an application. You can hire a legal adviser or FinTech software expert to review the fundamental guidelines and policies. Make sure your legal staff is aware of the most recent government regulations before you hit the market so you can immediately make the necessary changes.
3. Lack of Mobile and Technology Expertise
Some financial institutions and banks in the fintech sector need more efficient mobile banking services. In contrast, others offer unfriendly apps that pay attention to the capabilities of mobile devices, such as NFC chips and fingerprint unlocking, due to a lack of experience in developing fintech mobile apps. This may result in significant issues and a negative user experience.
Solution:-
This is where the role of FinTech app developers like Tntra becomes extremely important. Professionals can help with hardware integration with devices that offer seamless payment choices, such as QR codes for payment on public transportation, NFC chips in stores, automatic credit card scanning, and fingerprint two-factor verification.
4. Big Data and AI Integration
Big data and AI have transformed the banking sector, which has made tailored services and effective risk management possible. However, putting these technologies into practice offers difficulties that call for knowledge and flexibility from banks and customers because it necessitates technological modifications and the reshaping of existing systems.
Solution:-
The AI system needs to be trained using machine learning to integrate AI and large data. However, Many banking apps need help handling the massive datasets required for training. One method is utilizing a one-shot learning model, which permits training on fewer quantities of data and addresses the issue of insufficient data sets. Tntra can help your business with FinTech app development services such that you make the best use of your data sets.
Learn how Tntra's Loan Management System can streamline your lending process.

Contact us today to schedule a demo.
Conclusion
The global FinTech market is predicted to be more than $180 billion by 2024 and is expanding phenomenally. Challenges do, however, come with development. Threats to cybersecurity, regulatory compliance, and a lack of knowledge about mobile and technology are a few of the difficulties FinTech organizations encounter.
Companies can collaborate with FinTech app development providers like Tntra to design high-security applications, guarantee regulatory compliance, and incorporate hardware for frictionless payment choices to overcome these difficulties. As a result, FinTech businesses can continue to grow and develop in the financial services sector by tackling these difficulties.
---
Listen to our podcast episodes on FinTech Innovation and more!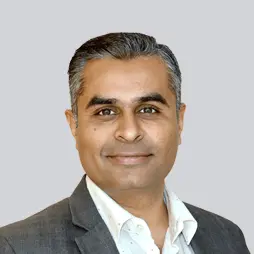 Shardul Bhatt
Shardul has been in the tech industry for over 18 years. He has worked with some of the global leaders like Mastercard, CIGNEX, and others. Today, Shardul stands as the CEO of
Tntra
- a global innovation ecosystem that provides product engineering services. He is enthusiastic about the latest innovations in the software industry and writes extensively to guide businesses and engineers for making better development decisions.
Choose Your Language
Categories