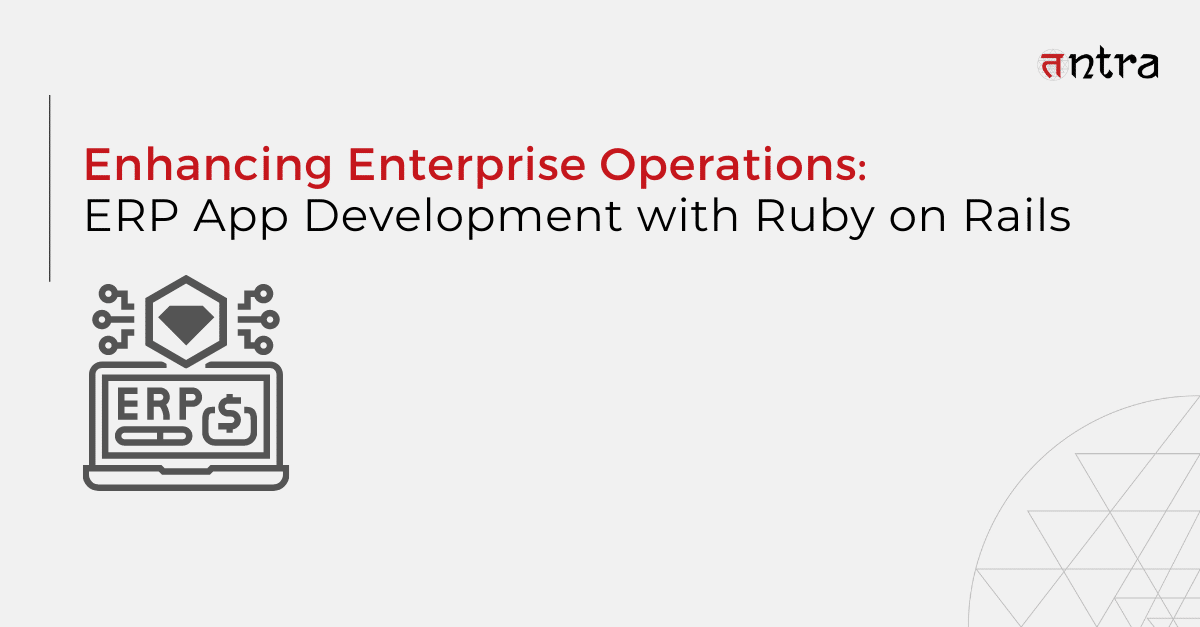 Enhancing Enterprise Operations: ERP App Development in Japan with Ruby on Rails
Ruby on Rails (RoR) changes the game when it comes to creating ERP application development. Due to its simplicity, quick development capabilities, and scalability, this framework has grown in popularity. As a result, the market for ERP software development is rising quickly as companies increasingly prioritize ERP installation. Ruby on Rails development services leverage this technology to enable businesses to design successful ERP apps that accelerate digital transformation and improve business processes.
One of the biggest retailers in the world, Walmart, uses the SAP® ERP Financials system as their Enterprise Resource Planning (ERP) platform of choice. The ERP software that can support the company's international growth and successfully adjust to changes in the commercial and regulatory landscape was a deciding factor in this decision.
There are many advantages that Walmart has gotten from the deployment of SAP ERP Financials. First, it has given the organization the leadership and growth it needed to gain market share, satisfy clients, and lower operating costs. The system offers Walmart complete solutions that take care of the intricate needs of its business operations. It enables the retail giant to boost partner collaborations, enhance customer interactions, and maximize efficiency throughout various business processes.
Walmart's ERP software enables the business to estimate product demand, simplify acquiring raw materials, create effective production plans, and efficiently distribute costs. With this operational insight and control, Walmart can manage its supply chain, make wise decisions, and increase profitability.
Walmart's SAP ERP Financials system supports its growth, enabling it to stay ahead in a dynamic retail industry. As in the case of Walmart, ERP application development has many benefits, including improved competitiveness, enhanced customer satisfaction, cost reduction, optimized business processes, and informed decision-making.
Source: EssayBizLab
Expanding Market for ERP Software
Enterprise resource planning (ERP) technologies undoubtedly play a greater role in business operations. According to a report, 64% of businesses intend to deploy ERP within the next three years. ERP is already ranked as a priority by up to 53% of IT leaders, right behind CRM installation, and 50% of businesses are either purchasing, upgrading, or preparing to update their current ERP systems.
The ERP software development market continues to be in a phase of quick expansion due to increased emphasis on digital transformation; by 2025, it is anticipated that the market will be worth more than $49.5 billion overall.
Software product engineering solutions for ERP software have been quite successful for businesses. Following the introduction of ERP, about 49% of businesses claimed that most of the business procedures had improved.
Several technologies have proved to improve ERP systems' credibility and performance greatly. One such framework is Ruby on Rails. Many ERP applications have been built using RoR, for instance, Basecamp, launched in 1999. Since then, the project management system has managed 8,000,000+ projects. Currently, it is used by 100,000 companies and 16 million people worldwide.
ERP applications have a big scope in Japan. As per Statista, the sales value of enterprise resource planning (ERP) solution package licenses in Japan was estimated at 127.8 billion Japanese yen in 2021. The market was forecast to exceed 147 billion yen by 2024.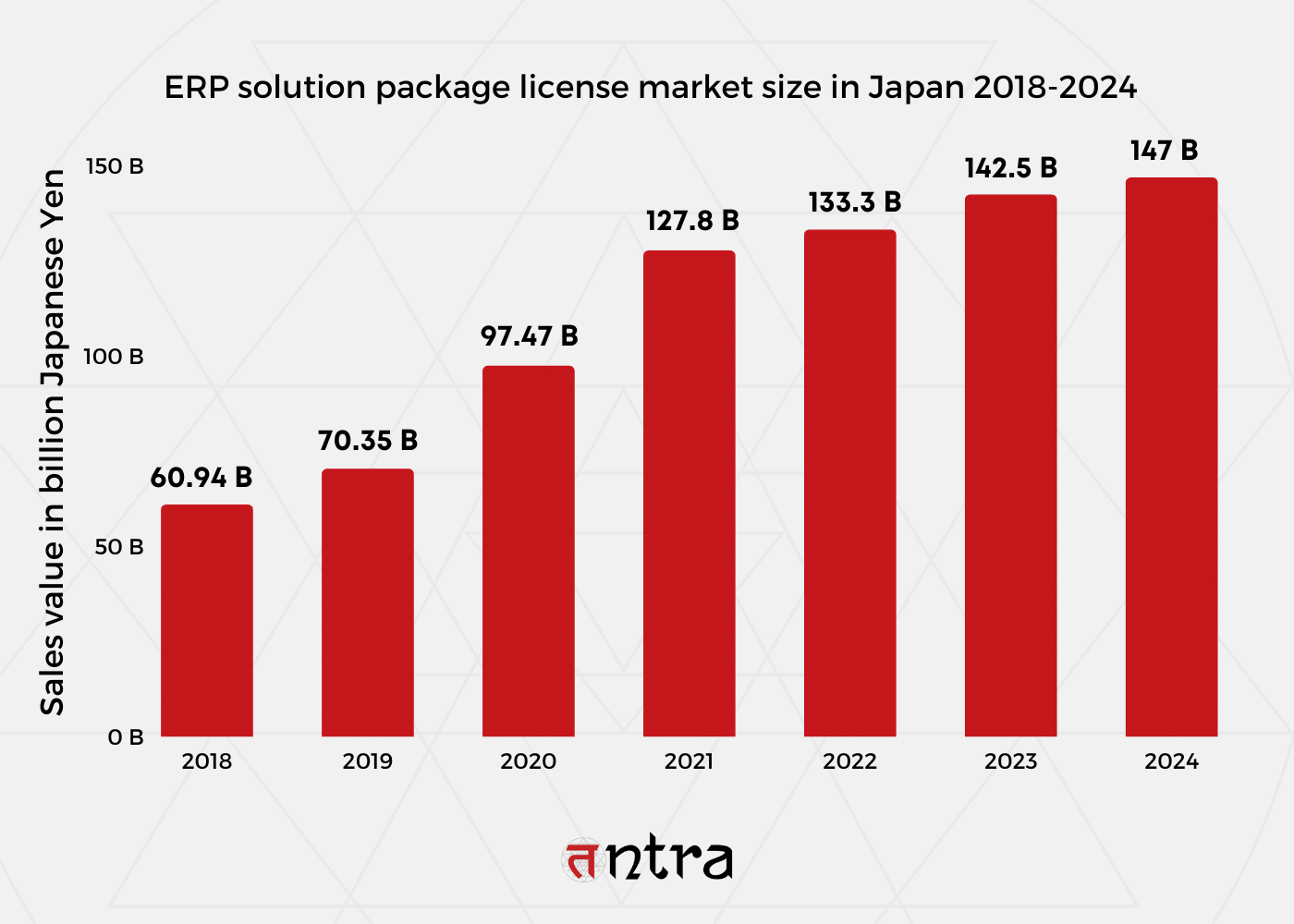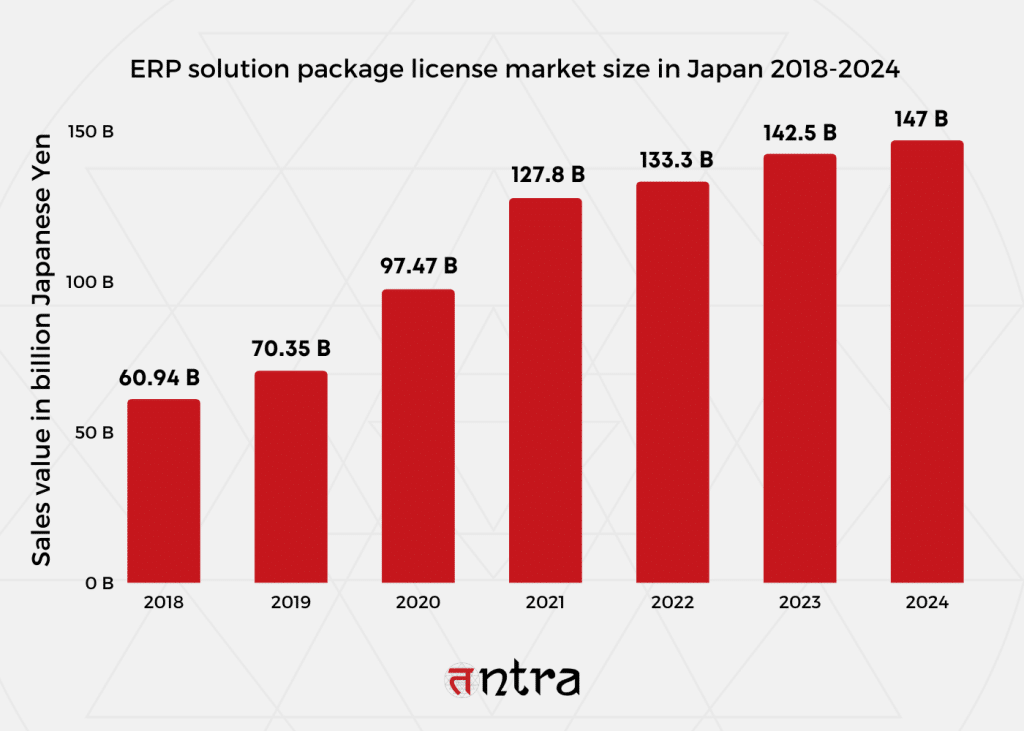 Why Choose Ruby as a programming language for ERP Application Development in Japan?
For the creation of ERP (Enterprise Resource Planning) applications in Japan, Ruby on Rails (RoR) is a fantastic option for a number of convincing reasons. The main reasons why RoR is suitable for ERP development in Japan are further explained here:
Simplicity and Productivity

The RoR programming language is renowned for its clarity, understandable syntax, and convention over configuration concepts. An ERP application development company in Japan can produce clear, succinct code with the language's well-structured grammar, which minimizes complexity and enhances maintainability. Because of the ease of use, developers are more productive because they can quickly understand the codebase and add or modify it effectively.
Local Relevance and Adoption

The Japanese IT industry has seen substantial growth for Ruby on Rails. RoR has been used with great success by many established and startup businesses in Japan to develop their platforms and services. Because Ruby on Rails is so well-liked in Japan, there is a large talent pool of seasoned Ruby on Rails development services and a welcoming local community that can offer support and share best practices.
Development that is Consistent and Scalable

The convention over configuration approach of RoR assures consistency in the organization of the code during the ERP software development process, making it simpler for developers to comprehend and maintain the program. This consistency is very useful when several development teams work on the same ERP project because it enables seamless communication and handover. As a result of RoR's high scalability, ability to handle sizable user bases and amounts of traffic, and ability to support growing organizations, ERP applications can also grow.
Cost-Effectiveness

When developing an ERP solution, money is a major consideration. Ruby on Rails is an affordable option because it is open-source. Ruby on Rails is an appealing alternative for firms, especially small and medium-sized businesses (SMBs), who aim to maximize their budget while developing feature-rich ERP applications because it is an open-source framework that considerably lowers license costs. Furthermore, the availability of skilled Ruby on Rails developers in Japan frequently comes at a competitive price, leading to further savings in ERP software development cost.
Agile Development Methodology

Scrum and other Agile development approaches are widely used in Japan. Ruby on Rails enables iterative and collaborative development, which fits well with the Agile methodology. The modular architecture of the framework and focus on test-driven development (TDD) make it ideal for frequent iterations and quick feedback cycles. Due to their ability to modify their ERP programs in response to shifting market conditions and customer demands, a Ruby on Rails development company in Japan can promote a more flexible and quick development process.
Supercharge Your Loan Management with Tntra's Cutting-Edge Platform. Explore Now!
Conclusion
Utilizing Ruby on Rails for developing Enterprise Resource Planning (ERP) solutions in Japan is a wise call. RoR offers simplicity, productivity, and localization features that align well with the needs of developing robust ERP applications. Moreover, its cost-effectiveness and compatibility with Agile methodologies make it an ideal choice. By leveraging the strengths of RoR, an ERP software development company in Japan can provide tailored solutions to businesses. Partnering with a technology consulting company can further enhance the efficiency and effectiveness of the ERP development process, ensuring successful implementation and client satisfaction.
Are you searching for a Ruby on Rails technology consulting company for custom ERP software development in Japan? Your search is over.
Contact the ERP and RoR experts at Tntra today.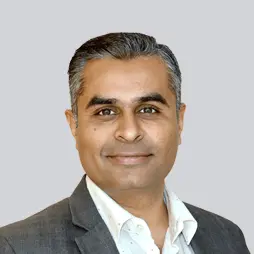 Shardul Bhatt
Shardul has been in the tech industry for over 18 years. He has worked with some of the global leaders like Mastercard, CIGNEX, and others. Today, Shardul stands as the CEO of
Tntra
- a global innovation ecosystem that provides product engineering services. He is enthusiastic about the latest innovations in the software industry and writes extensively to guide businesses and engineers for making better development decisions.
Choose Your Language
Categories