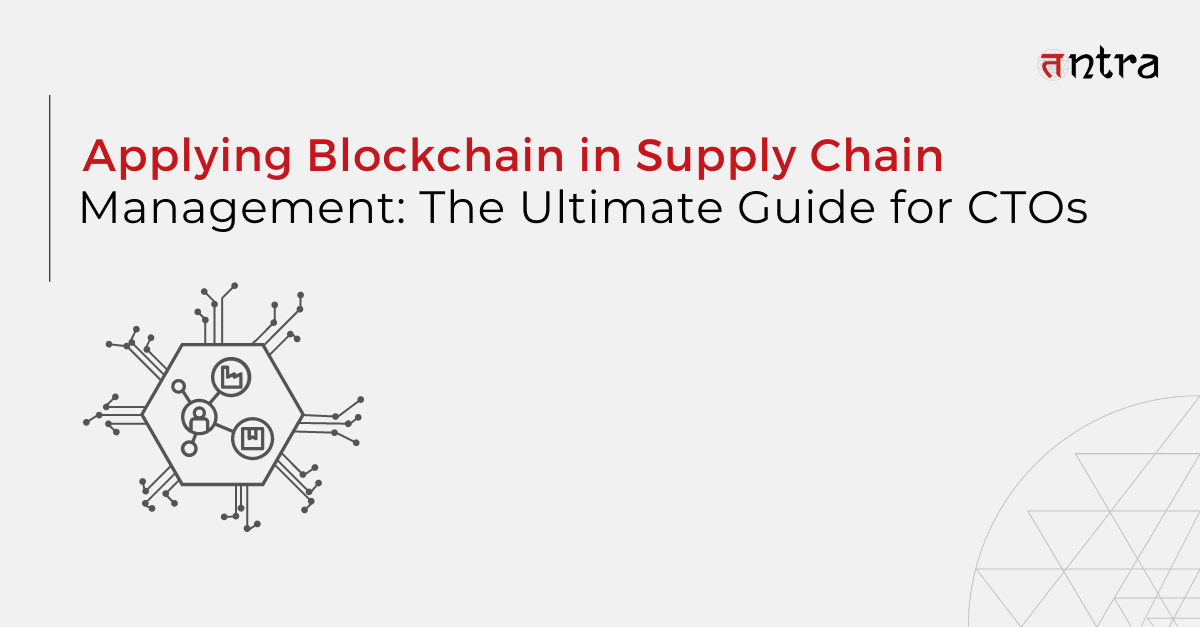 Applying Blockchain in Supply Chain Management: The Ultimate Guide for CTOs
New technologies are making supply chain management easier. With blockchain in supply chain management, you can improve the transparency and traceability of the products. A supply chain comprises logistics partners, manufacturers, suppliers, and retailers. The modern supply chain has become complicated. The introduction of blockchain technology has eased the working of businesses by improving the movement and tracking issues that emerged in the supply chain.
Walmart is a thriving blockchain in supply chain management example, which collaborated with IBM to secure the health of its food chain supply. The inclusion of blockchain started when the Vice President of Food Safety at Walmart asked its staff to trace the origin of packed sliced mangoes. It took the employees nearly 7 days to do so.
With the application of blockchain technology in supply chain management, the company partnered with IBM to create the food traceability system using Hyperledger Fabric. It helped Walmart to trace the sliced mangoes in its US stores within 2.2 seconds.
Another benefit of blockchain implementation was that the company traced the pork in China by uploading the certificate of authenticity to the blockchain system. It made the whole process transparent and trustworthy. Using blockchain for supply chain management has helped Walmart create necessary food safety and traceability standards.
Source: Walmart Global Tech
The Role of Blockchain in Supply Chain Management
Blockchain technology benefits the supply chain by lowering the gray market trading under supply chain management. It helps reduce administrative costs and paperwork. The technology is mainly helping the pharmaceutical and diamond industries.
SAP has revealed that blockchain application in supply chain management and IoT leads with 63% of use cases, whereas legal and regulatory cover 19%. Surprisingly, cryptocurrency has only 8% use cases.
An estimate by Markets and Markets shares that the global blockchain supply chain market will exceed $3.3 billion by 2026 from $253 million in 2020. It will increase at a CAGR of 53.2% between 2022 and 2027.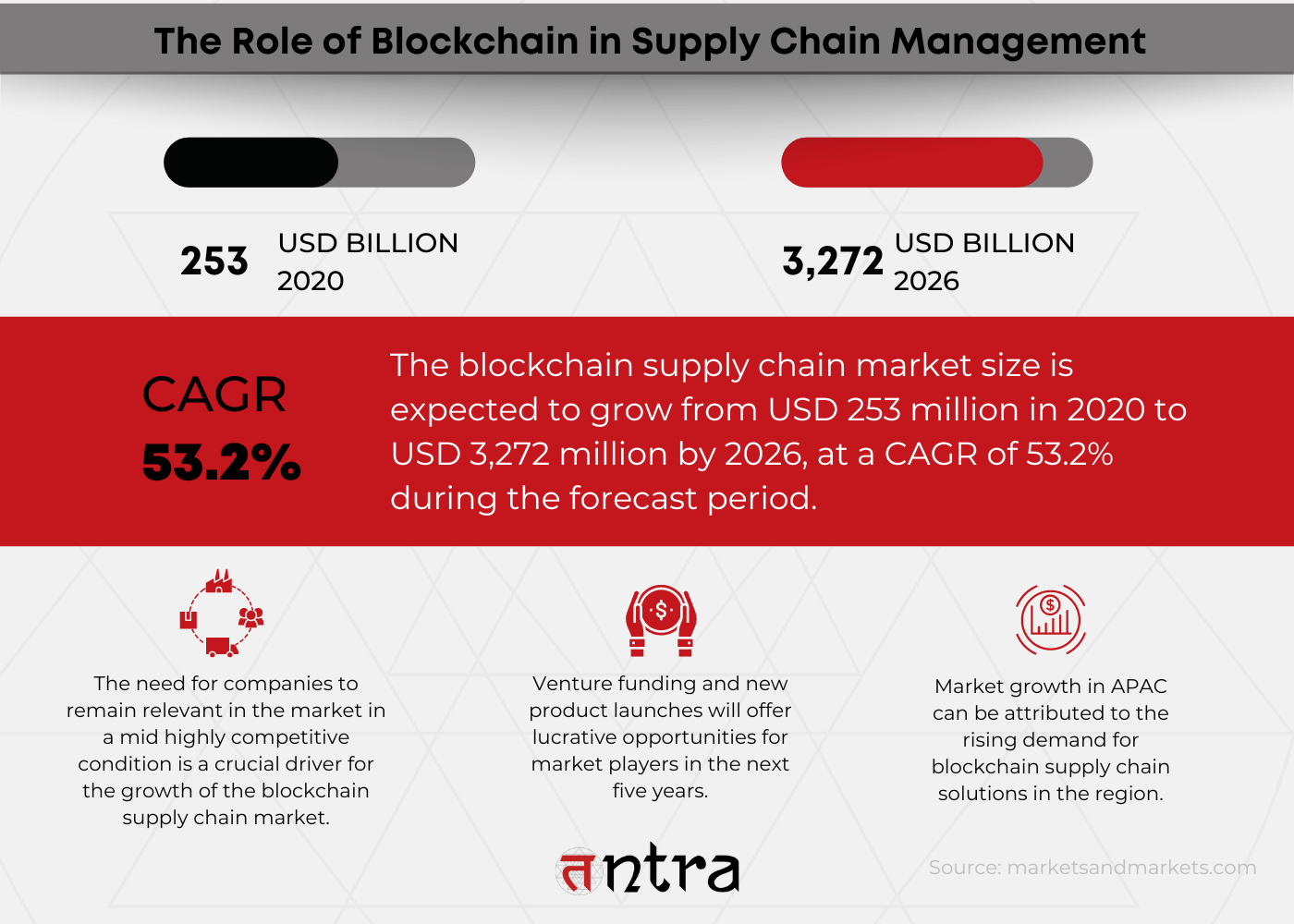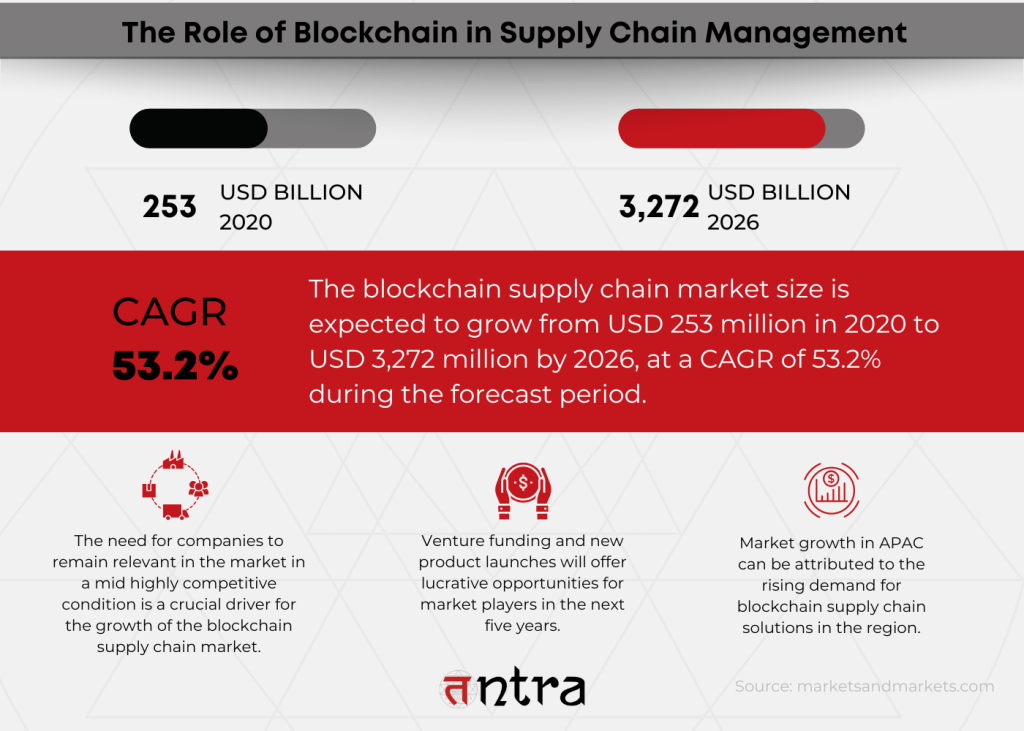 Source: Marketsandmarkets
Another report by Gartner states blockchain will generate a value of $3.1 trillion by the year 2030. However, 3% of the CIOs and CTOs have the form of live and operational blockchain for the businesses giving proper solutions.
Real-Time Use Cases and Examples of Blockchain In Supply Chain Management
The top technology consulting firms are helping companies adapt to blockchain technology by helping them leverage the latest technologies. It will help them stay ahead of the curve and support them in innovation.
Many top-notch companies leverage the latest blockchain technology system to fight complexities. However, there is some blockchain in supply chain examples and blockchain in supply chain use cases in real-time. Let's have a look.
Brilliant Earth, the retailer of ethically sourced diamonds and fine jewelry, uses blockchain technology to provide customers transparency, integrity, and assurance while managing the diamond supply chain.

Merck, Walmart, KPMG, and IBM are using blockchain to improve drug security and safety. They are using this technology to let people know that their drugs are authentic from the source of manufacturing to supply.

By leveraging this technology, Bumble Bee Seafoods provides insight into its food origin. blockchain will help provide customers with the exact tracking location of their food. The software product engineering services and methodologies would help use SAP's blockchain platform to prevail in fair trade practices.

Naturipe Farms, LLC is a fresh fruit delivery provider that uses SAP Cloud Platform blockchain service to track the blueberries from the harvesting point to the dinner table. There are QR codes installed on the fruit packages. It will provide detailed information about the berries to the customers.
How to Implement Blockchain in Supply Chain: A CTOs Perspective
If you wonder how blockchain is used in supply chain management, here are a few steps to help you enable this technology for successful implementation.
Identify the Use Cases:

You must check out which use case needs to be implemented, like do you want to reduce fraud, improve traceability, track the products, or want to increase sustainability. Always check out the worst-case scenario before implementing a new technology.

Analyze Existing Systems:

If you are wondering how blockchain helps in the supply chain, you must analyze the potential impact on the existing processes and systems. Using blockchain will help you easily integrate and carry out with the legacy systems.

Follow the Security Practices:

Data security is a powerful blockchain implementation benefit. It will help in ensuring full-fledged protection of the company's sensitive information. Data security and privacy are critical when using blockchain for the supply chain.

Collaborate with Right Partners:

The right partners will help with the easy implementation of blockchain technology. The companies can share important information and knowledge with partners by having everyone on board. You may all be facing the same challenges in the supply chain. However, collaboration would help in making things smooth.

Monitoring the Performance:

It is necessary to monitor the performance of blockchain technology when implemented in the supply chain. You will learn the areas of improvement and ensure that the technology is implemented successfully.
Streamline Your Freight Forwarding Operations for Seamless Deliveries. To Discover How, read the blog now!!
Hire The Best Technological Firm!
Implementing blockchain technology for your supply chain management will help to reap potential benefits. It will provide you with real-time tracking of goods during the entire product development cycle. Furthermore, it brings transparency and increases trust among all involved parties.
Tntra Engineering, a software product engineering company, offers cutting-edge blockchain development services. Our experts will help you to convert your ideas into practical, reliable, and scalable blockchain apps.
Call Tntra Engineering experts today to experience 360-degree transformation and global innovation.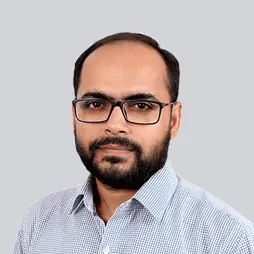 Parth Barot
Parth is a full-stack programmer and has programmed extensively in Ruby on Rails, Python-Django, React-Native (Android and iOS Development) / ReactJS, RPA, Java and Javascript frameworks and is always exploring the new age programming languages and platforms. Parth has worked closely with teams based out of the US, UK and Europe. Parth has also visited and worked closely with clients in Singapore.
Choose Your Language
Categories