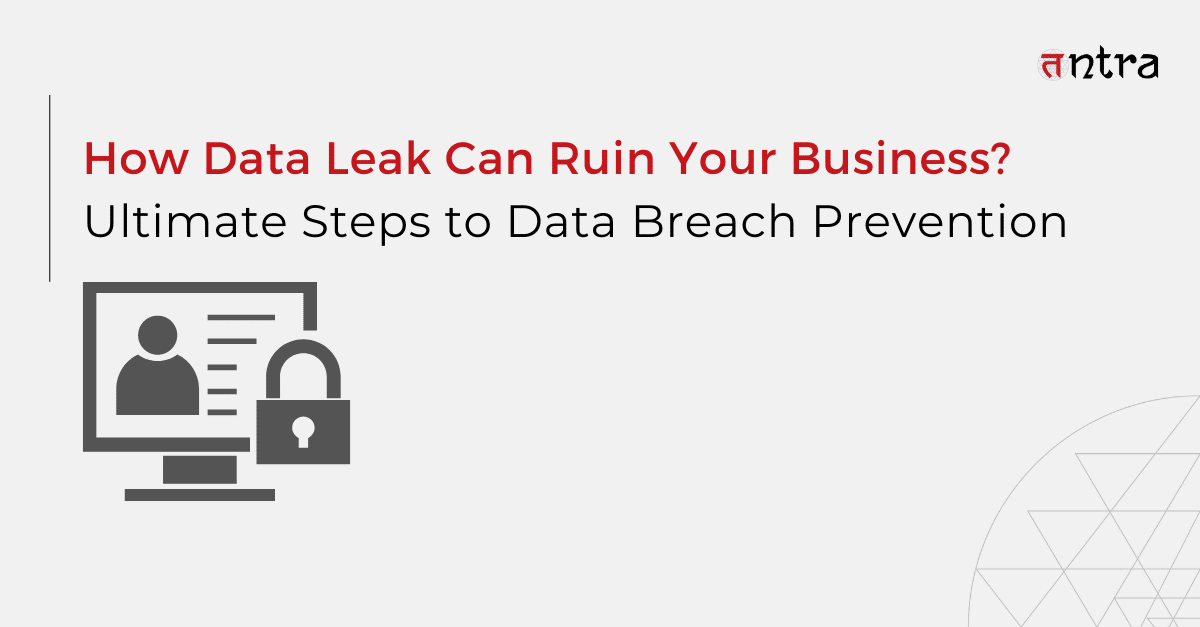 How Data Leak Can Ruin Your Business? 5 Ultimate Steps To Data Breach Prevention
Cyber attacks lead to financial and credibility losses. It can shake the customer's trust in your business. Unfortunately, many companies still pay the price because of a lack of cybersecurity training. From purposeful accidents to malicious attacks, cybersecurity breaches are increasing. While it is impossible to minimize the risk altogether, these data breach prevention practices can go a long way.
The Chinese eCommerce giant Alibaba got under one of the biggest cybersecurity breaches in 2022. It impacted the data of 1.1 billion users, which consisted of their names, ID numbers, phone numbers, criminal records, physical addresses, and online papers. Twenty-three terabytes of the data of the company were compromised.
Alibaba deployed the ECO platform as a major data breach prevention practice. This platform helps control the systems Alibaba developed and works as a unique data risk prevention tool. The ECO platform renders a complete data security solution covering discovery, prevention, data disposal, location, and other information-related security information.
Currently, the ECO platform protects millions of devices of users. It works as the moat that protects the company's data from types of cyber breaches. They use cybersecurity software product engineering solutions to protect their core business from data threats. The ECO platform curbs the risk that otherwise occurs along the data flow. It boasts of defending the servers, front end, and client information. It further helps with server intrusion prevention, client protection, application protection, and account protection.
The impact of cybersecurity breaches is powerful and can't be denied altogether. Therefore, the ECO platform works at a deeper level. It detects any global threats and anomalies, including the prediction of cyber threats. The ECO platform is now available for merchants, service providers, cross border eCommerce and is also customized for a few business types.
Source: Alibaba Cloud
Acknowledging the Biggest Cybersecurity Breaches Data
According to the report, healthcare and health science, public, IT, and Education sectors faced the most cybersecurity attacks in Q1 2022. Nearly 70% of cybersecurity breaches happened in those sectors.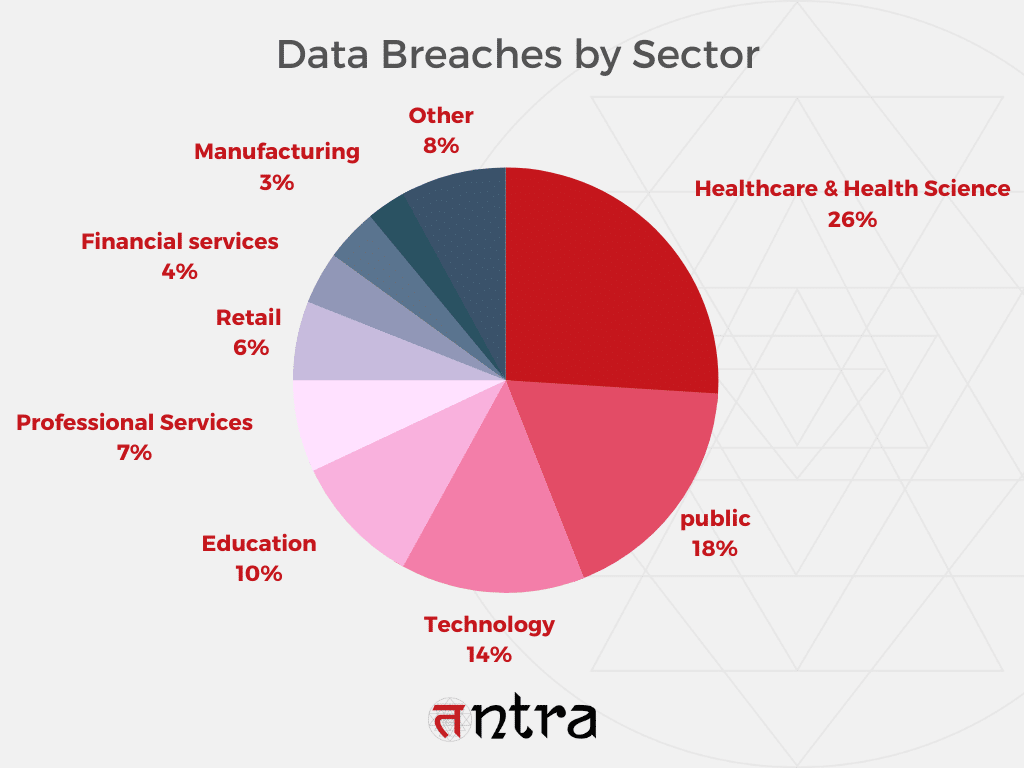 Cybersecurity experts have shared their biggest nightmare related to the biggest cybersecurity attacks. Another report indicates cybersecurity and data breaches as one of the many threats to the global economy. Close to 294 million people were impacted by data breaches in 2021.
Some of the biggest cybersecurity breaches have happened with the largest conglomerates in the world, like Alibaba, Yahoo, LinkedIn, Marriott International, and Facebook. These data breach examples have shaken the credibility of the companies in the market between the years 2012 to 2021. In 2014, the cyberattack breached the data of around 300 million guests of Marriott International. And hence, the hotel was later fined nearly $23.8 million due to this data leak.
Deloitte states (above images) the high and low cyber performance areas that will help organizations increase cyber and information security. It shows how the cost of cybersecurity breaches can affect an entire organization. These actions, when implemented, can increase or decrease cyber performance.
The types of data breaches depend mainly on digital attacks, online attacks, ransomware, malware, etc. Few trends will dominate in 2023 to prevent cybersecurity data breaches. It includes protecting digital assets, carrying out cloud security, controlling automated software, using AI and ML for threat hunting and incident response, using email security protocols, using IoT, and using two-factor authentication.
Read more: Technology Consulting for Cybersecurity in the Era of Big Data
5 Steps To Data Breach Prevention
Possess Incident Response Plan
The latest cybersecurity attacks have happened in recent years, with ransomware and online digital attacks being the main reason. The only thing a company needs is an incident response plan. Make sure to have an incident response plan like contacting the cybersecurity cell or disconnecting the system from the server when the biggest cyber security breaches happen. It will help reduce panic and confusion when top to middle management is trained for the same.
Monitor Phishing Threats
Do you want to know how to prevent data breach? The foremost thing to do is to update the software and monitor for phishing threats regularly. Press your cybersecurity department to check for any suspicious activity. Do follow the BYOD policy and two-factor authentication to secure sensitive data.
Preserve the Evidence of a Data Breach
When a breach happens, the first impulse of an employee is to delete everything quickly. The security breach has already happened but preserve the evidence. It can help the cybersecurity departments to trace the hackers. You can reach out to cyber security breaches financial services providers who can help you in getting your cyber insurance cleared.
Handle Public Communication
Investigate the Breach and Restore it Quickly
Use the right data breach prevention tools to prevent data breaches. It will help in protecting the sensitive data of the company. When a breach happens, these tools can help you discover the source of the breach. After securing the source, restore your systems to get them back online quickly. Do carry out full compliance with PCI-DSS.
Want to see real-world examples of how Tntra's freight forwarding solutions can benefit your business? Explore our case studies for more information on Innovative Solutions in Freight Forwarding.
Get Technological Solutions From Tntra for Data Breach Prevention!
Various types of breaches in cybersecurity have happened until now and may take place in the future too. A right action plan following the above steps can save time. Balancing and maintaining cybersecurity solutions can help.
Get the best data breach prevention solutions from Tntra Engineering. Our software product engineering services will help secure your organization and prevent future data breaches.
Contact Tntra Engineering today for robust cyber security solutions and maintain your customers' trust.
---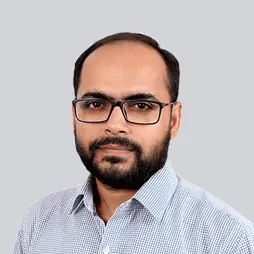 Parth Barot
Parth is a full-stack programmer and has programmed extensively in Ruby on Rails, Python-Django, React-Native (Android and iOS Development) / ReactJS, RPA, Java and Javascript frameworks and is always exploring the new age programming languages and platforms. Parth has worked closely with teams based out of the US, UK and Europe. Parth has also visited and worked closely with clients in Singapore.
Choose Your Language
Categories