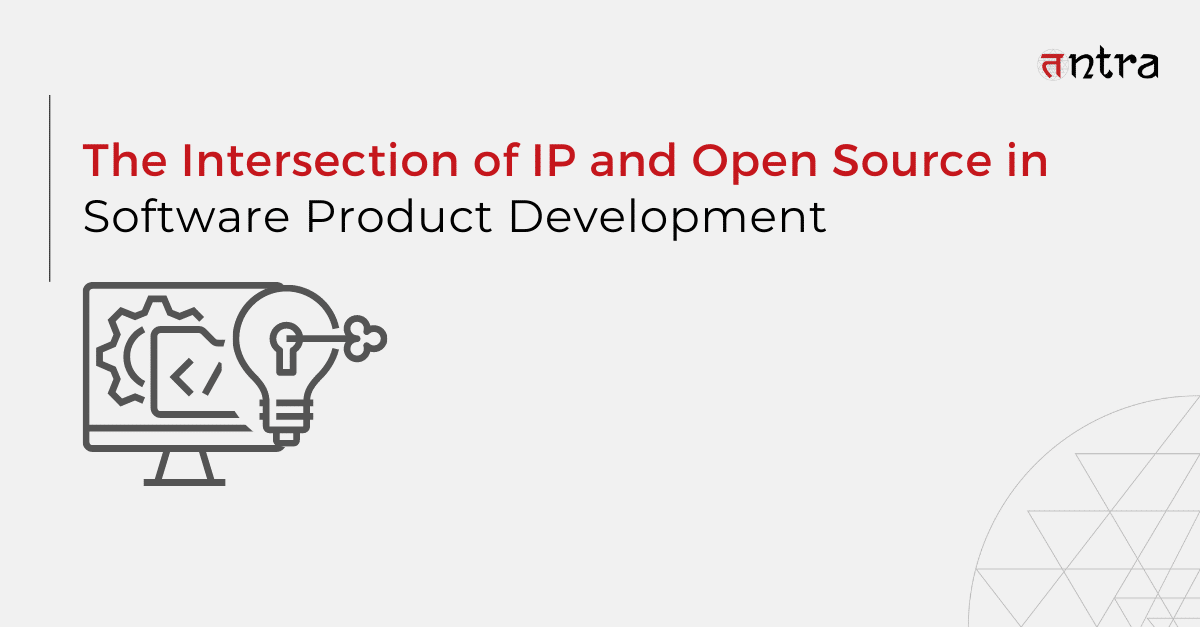 The Intersection of IP and Open Source in Software Product Development
The challenge of striking a balance between IP rights and open cooperation is brought up by the junction between open-source software and intellectual property (IP) in the development of software products. While OSS platforms give programmers the freedom to access, use, modify, and distribute computer software, it can also conflict with the right to exclude under the patent system. Unique open-source licenses and contributor license agreements are necessary to safeguard authors' rights while fostering open sharing and cooperation. Overall, the combination of open-source software and IP offers significant potential along with a host of advantages, such as transparency and confidence, reliable and secure software, and compliance with IP legislation.
An initiative called the Android Open Source Project (AOSP) was established to manage the development of the Android mobile operating system. The Android platform comprises the mobile operating system (OS), middleware, and essential applications. The Android ecosystem is protected by Google using its many mobile technology patents, which it also makes available as an open-source project.
These patents and other Android-related intellectual property (IP) rights are owned by Google, which has granted licenses to devise makers and other Android platform users. In addition, Google has made the Android source code available under an open-source license (the Apache License, Version 2.0), making it accessible to everyone for download, modification, and distribution.
Google recently unveiled the Open Patent Non-Assertion (OPN) Pledge, a fresh program under which the company has vowed not to take legal action against creators, distributors, or users of open source software ("OSS") platforms that makes use of Mountain View's patents "unless first attacked.
Yet the business isn't offering up the whole of its patent collection. On the contrary, it is making a modest start by adding only ten patents to the commitment. According to Google, these patents are already widely used, and the list of Google-owned patents covered by the agreement will gradually grow.
Source: The Verge
Unlocking Business Value through OSS platforms and IP for Software Development
OSS platforms are becoming more and more useful and popular. According to MarketsandMarkets' prediction, the size of the global OSS market will increase at a Compound Annual Growth Rate (CAGR) of 16.2% from an expected value of USD 25.6 billion in 2022 to USD 54.1 billion by 2027.
Global Open-Source Services (OSS) Market Trends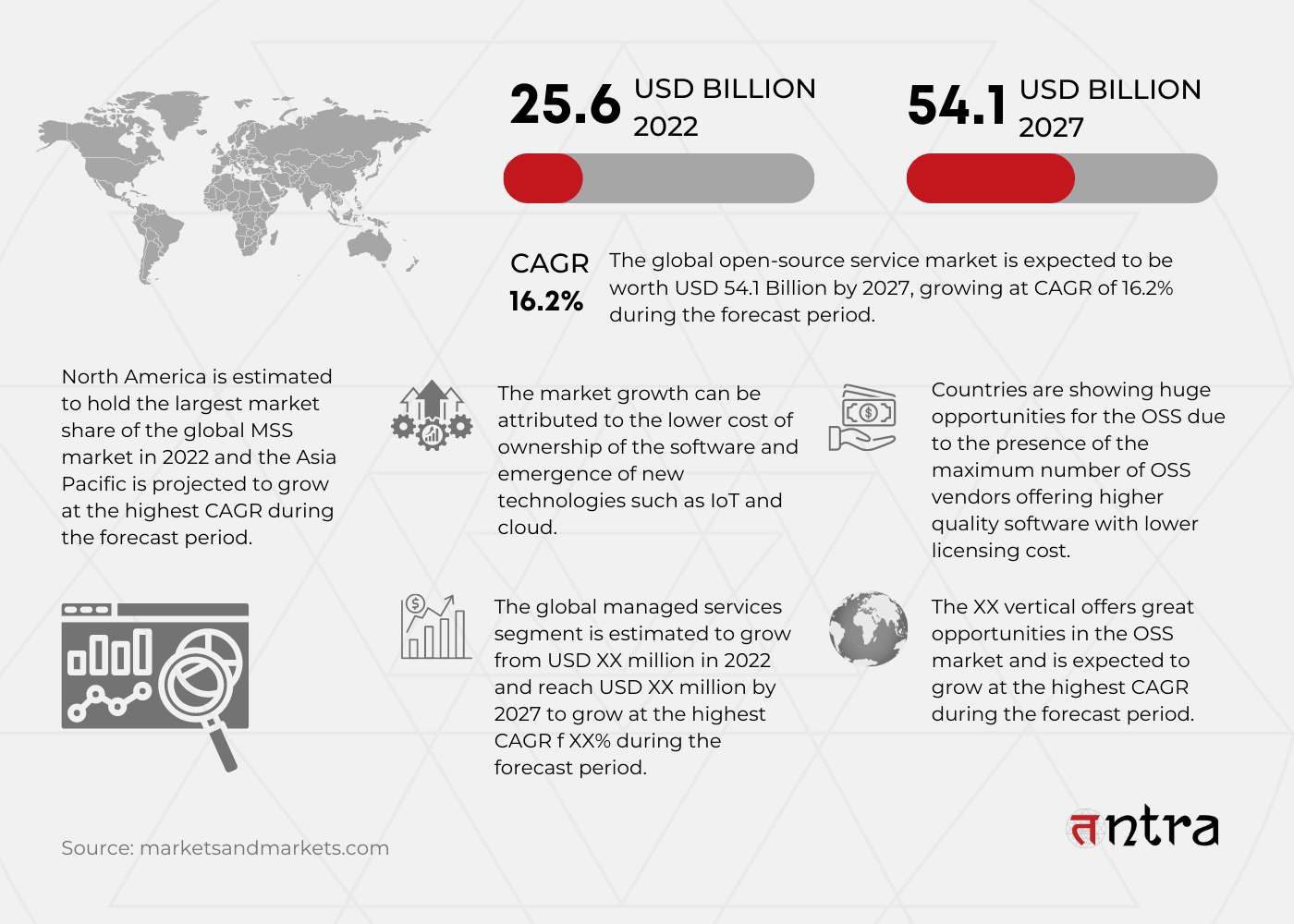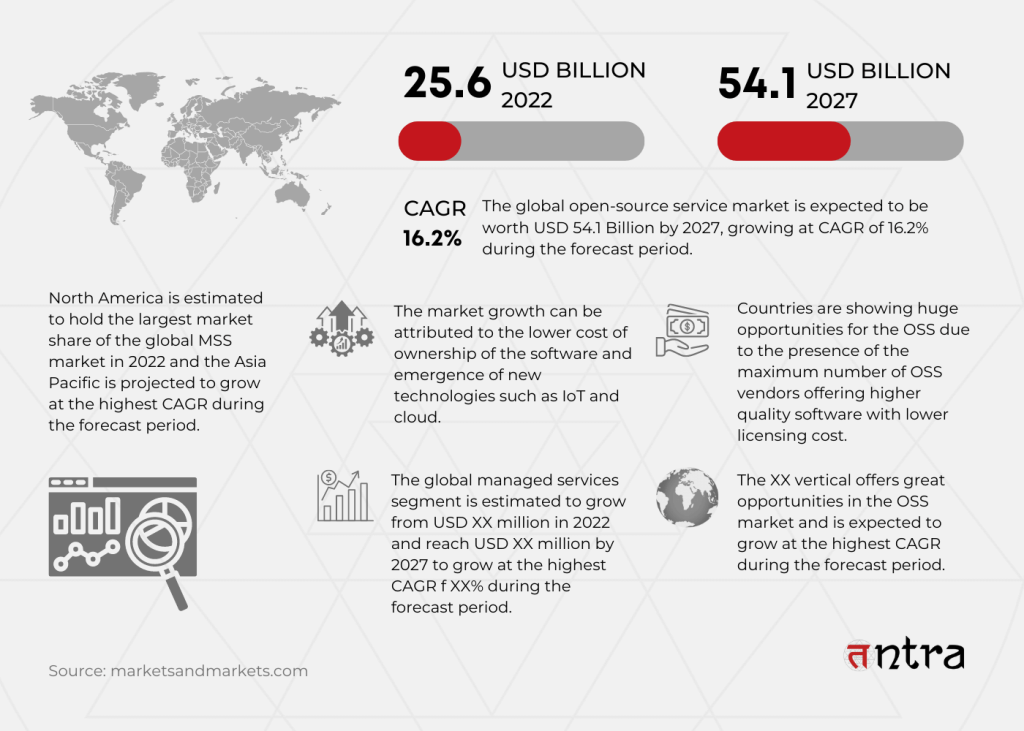 Today, practically everything is powered by open-source software product engineering solutions. A staggering 97% of applications use open-source code, and 90% of businesses use it in some capacity. According to GitHub, more businesses are starting new open-source communities, and 30% of Fortune 100 firms have open-source program offices (OSPOs) to plan their OSS initiatives.
On the other hand, the market for intellectual property management software was estimated to be worth USD 137.3 million in 2020 and is projected to increase at a CAGR of 15.6% from 2021 to 2028. It is anticipated that demand for intellectual property management software will be driven by end users' growing understanding of and use of IP protection rights.
The crossover of software IP and open-source software systems has resulted in incredible business value. For instance, Google's Android Open Source Project (AOSP) allows anyone to do what they wish. As a result, the total market size value of the business applications was at $2.77 billion in 2021 and is expected to rise to $7.17 billion in 2028.

Intersection of IP and Open Source in Software Product Development
According to one definition, open source software (OSS) is computer software that "may be freely accessed, used, altered, and shared by anybody." Linux, Chrome, and Android are a few examples of open source software. OSS can boost efficiency by reducing the need for developers to continually reinvent the wheel by enabling them to incorporate the work of other developers into their work.
Aside from being flexible and often free for users, OSS can also be advantageous for IT companies in terms of cost and cost-effectiveness because it enables downstream users to customize the program to suit their preferences.
The ability to prevent others from creating, utilizing, offering for sale, or commercializing an invention is granted by a patent. The fundamental justification for the patent system is that it promotes innovation, disclosure, and invention.
On the other hand, software developers may be required to waive any patent rights when licensing their ideas under an OSS license. Since open-source software is completely replicable and comes with the source code, its producers waive all copyright, patent, and trade secret rights. This raises the possibility of conflict between the patent system, which strives to encourage invention, disclosure, and innovation through the right to exclude, and OSS, which generally rejects the advantages of the right to exclude.
Protecting the rights of creators while promoting open sharing and cooperation is one of the primary issues in striking a balance between open-source software and IP. Numerous open-source licenses with unique terms and conditions have come up to address this. However, when contributing code to an open-source project, there is also the possibility of patent violation. Therefore, several projects need contributors to sign a contributor license agreement (CLA), which permits the project to utilize their work and shields them from any allegations of patent infringement.
The fusion of open-source software and intellectual property is a real potential with many benefits. At the convergence of open-source software and IP, it is vital to balance IP rights and open collaboration. The open-source paradigm encourages transparency and trust, which makes software dependable and secure. Open source licenses provide rules for the usage and distribution of software, assisting with IP law compliance and averting legal complications.

Conclusion
The intersection of open-source software and IP can bring numerous benefits to software product engineering services, including cost savings, innovation, collaboration, and legal compliance.
However, balancing the protection of IP for software development with the open sharing and collaboration encouraged by the open-source model remains a crucial challenge. Open source licenses and contributor license agreements can help mitigate this issue while promoting transparency and trust in the software development process.
Tntra technology solutions help organizations meet their IP-led software development requirements for mature and legacy systems.
Contact team Tntra today!!
Tune in to our Intellectual Property podcast and stay informed on the latest developments in IP law.

Team Tntra
Tntra provides IP-Led software services and product engineering to partners – from new economy startups to large corporations – around the world. The team of executives, managers, and developers at Tntra provide valuable insights on how innovation and software technology are transforming the world. The company's articles also bring insights from experts with two decades of experience in software product engineering and digitization.
Choose Your Language
Categories